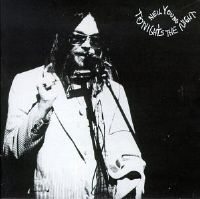 20 June 2010
Neil Young was a superstar when he recorded Tonight's the Night in 1973. The previous year, Harvest and "Heart of Gold" had both topped the charts. Written and recorded in a seemingly continuous drug- and booze-fueled stupor in the wake of the overdose deaths of Crazy Horse guitarist Danny Whitten and CSNY roadie Bruce Berry, Tonight's the Night is ragged, bleak, weird. It must have come as a complete shock to Reprise label executives hoping for more mellow classics along the lines of "Heart of Gold." It sat unreleased for two years.
The two very different versions of the title track that frame the album are full of tattered accompaniment punctuated by sudden lunges of guitar or piano and broken up by droning lulls as the players make it up as they go along, with every mistake proudly left in. Young's singing is ragged, ravaged, as he sings about Berry's life and death. Whitten's talent is commemorated with "Come on Baby Let's Go Downtown," a Crazy Horse song co-written by Whitten and Young on which the former sings the lead vocal on an old live recording from the Fillmore East.
The most startling and emotionally honest track might be "Borrowed Tune." Solo, Young plunks out a simple piano accompaniment and sings of confusion and self-doubt, brushed with daubs of his bone-simple harmonica wailing. When Young rasps, "I'm singing this borrowed tune / I took from the Rolling Stones / Alone in this empty room / Too wasted to write my own," it's especially chilling coming from a songwriter as prolific as him. (The melody is that of "Lady Jane.")
The prettiest song is undoubtedly "New Mama," a sparsely arranged tune (with just acoustic guitar, piano, and a touch of vibes) showcasing gorgeous harmonies. Even this celebration of a new life is in a minor key and shadowed by uncertainty. Eerily, the next-prettiest song is "Tired Eyes," detailing a drug deal that slipped into deadly violence.
Many of the songs depict inertia, such as "Speaking Out," highlighted by a guitar solo by Nils Lofgren that's a masterpiece of timbral variety. There's an odd optimism and defiant humor to the similar "Roll Another Number for the Road," but "Albuquerque," featuring Ben Keith's piercingly emotional pedal steel licks, is utterly desolate. The Crazy Horse rhythm section of Billy Talbot and Ralph Molina plays on all the tracks with bass and drums except for the rollicking "Lookout Joe," with Tim Drummond and Ken Buttrey.
On Tonight's the Night, Neil Young faced the specter of death and came away offering more questions than answers, along with a certain defiant, goofy humor at times. Many new fans were unprepared for the deliberate musical sloppiness, but this and the sardonic On the Beach, recorded the following year, turned out to be Young's strongest albums of the decade, and arguably the most creatively satisfying of his career.