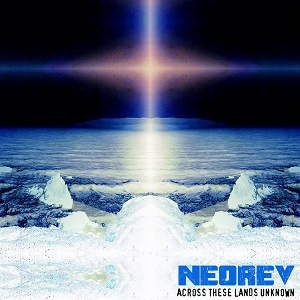 7 April 2016
Always looking for new modes of expression, Neorev's Michael Matteo steps away from the hip-hop, dubstep and electro-pop of his previous releases to deliver a compelling collection of ethereal instrumentals that could easily be classified as electronic shoegaze.
Across These Lands Unknown spans the gamut between krautrock and industrial while holding fast to a dance mentality informed by solid rock structures. "Starlight" opens with a driving neon pulse, the first awe-inspiring steps into a twenty-four-hour tech-obsessed city at night where artificial light makes it as bright as the day. Then, "The Infinite Abyss" slows things down a bit with an airy track that sounds like Kluster collaborating with one of Hans-Joachim Roedelius' current projects. A touch of darkness creeps into "Beyond," where IDM beats dance to a highly emotional chord progression. "Voices Calling Me" removes the beat entirely in favor of sinister, throbbing electronics and creepy sounds, followed by the closing title track, which slinks in the shadows of the neon city to a sleazy industrial rhythm. It's the soundtrack to the next great television cyberpunk epic, brought to you on your device of choice, of course.
Without even knowing it, this is the release Neorev's fans have been craving, i.e., a personal statement that completely ignores the confines of popular music to create something powerful and beautiful. Hopefully, more like it will come in the future.
comments powered by