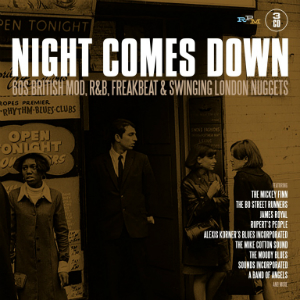 28 May 2017
As I start the reviewing process for yet another box set, I wonder how to best illustrate what is contained in this latest collection of rarities, courtesy of
RPM
and
Cherry Red Records
. This 87 song, 3-CD box set follows previous collections
Looking Back
(2011) and
Keep Lookin'
(2014), which covered a gamut of musical styles emanating from the UK, diverse and yet united in their dancefloor appeal, from the discotheques of the day to nouveau Mod clubs in the present day. Some tunes are making their official debut on CD, including rarities by
The Gnomes Of Zurich, Kevin 'King' Lear, Dominic Grant, The Shadrocks, The Reaction, Al Saxon, and The Hammers
. In addition, "Cypress" by
The Truth
is a previously unissued variant of
Donovan's
"Hey Gyp". Familiar names (
The Spencer Davis Group, Laurel Aitken, The Moody Blues, Arthur Brown
) are joined by cult favorites (
John's Children, Mickey Finn, The Bo Street Runners
) and relative unknowns (
Five's Company, The Second Thoughts
). The box includes an exhaustive booklet full of illustrations and lengthy sleeve notes that provide a detailed summary of every song here.
So getting past the excellent press information, we should dive into the music. And wow, I am so overwhelmed by the embarrassment of riches here, that I hardly know where to start. I've hardly gotten past the first disk, and I can tell you that you'll be swinging and bopping along with the cheerful, hip swinging opener of 1962 song "Mama (He Treats Your Daughter Mean)" by Liverpool singer Lita Roza. What a set of pipes! "I Need Your Loving" by Ronnie Jones and the Night-Timers follows up in true Motown fashion, with transplanted American Ronald Hugo Jones helming the vocals. I also dig the organ bubbling through the mix along with the expected horns. Neat! Alexis Korner, aka The Godfather of the British Blues, needs no real introduction as he's influenced many a musician who went on to bigger fame. "Taboo Man" is a cool treat performed with Blues Incorporated. "Pills" by Mickey Finn and The Blue Men makes me chuckle every time I hear it. The lyrics are silly and clever, and there is a ska-tinged feel to it. The song features future Zep guitarist Jimmy Page on harmonica!
James Royal's passionate cover of "The Work Song" will be familiar to some, and it's great to hear that Royal is still active and working on a new album! "Comin' Home, Baby" reminds me of 60s spy music, and features The Mark Wirtz Orchestra and Chorus jiving along to a swinging beach melody.
The Bo Street Runners treat us to the fast moving "And I Do Just What I Want", featuring a very young Mick Fleetwood on drums. The Moody Blues are unrecognizable on "And My Baby's Gone", with the soulful Denny Laine on vocals. "She's a Girl" by The Attraction is neat, mid-60s pop with a Hollies vocal vibe. "It's Alright" by The Rocking Vickers is a repurposed cover of The Who's "The Kids Are Alright", and includes Motorhead's Lemmy Kilmister on lead guitar! Talk about groovy! "Ready Steady" by The Clockwork Oranges is an amalgamation of Beach Boys harmonies with The Beatles in their Help era. Fun times! Also excellent is the heavy surf influence on "Can You Hear Me" by The Cymbaline. I never mind when bands channel The Beach Boys when it's done so well. "Jugger Tea" from Oliver Bone is a really fun romp and rejiggered Batman theme, which was also a pure improvisation. The well known Chad and Jeremy sing on the jaunty folk rocker "No Other Baby", which was featured in The Dick Van Dyke Show. Ooh, I love the swinging 60s feel of "The Other Side of Love" from the dulcet voiced singers from The Caravelles. The first disk has 30 songs, and it takes awhile to run through it, but it's all great fun to hear these old classics.
Disk 2 opens with the Elvis ringer Mick Finn covering "Night Comes Down", which gives this box its title. He sounds hot and bothered and is helped along by Jimmy Page on lead guitar. If you're expecting Stevie Winwood on "Short Change" by his old band The Spencer Davis Group, forget about it. But don't miss it, for it features some terrific guitar from Ray Fenwick and bluesy lead vocals from Spencer Davis. "Big Bare Beat" from The British Lion Orchestra hails from the soundtrack for a Marianne Faithfull film called Naked Under Leather. It's weird, and one heckuva ride featuring some groovy horns and Hammond organ grooves. I also really enjoyed the rollicking instrumental "Soul Serenade" from The Mike Cotton Sound. Oliver Bone returns with their killer A side "Knock on Wood", featuring the mysterious singer Bone (fake name) and a session band. Mark Wirtz and his Orchestra return with the groovy, bongo-driven instrumental "Yeh Yeh". So much fun! "That Drivin' Beat' from The Favourite Sons is early garage rock, swimming with metronomic beats and fuzzed out guitar. "Party Line" from The Attraction is early psych and Freakbeat, filled with the requisite trippy guitar and a paisley-tinged melody. The dramatic Beat ballad "A Man Needs Love" from The Brothers Grimm closes out the second disk in splendid fashion, and will remind you of numerous artists from the mid-60s. It contains the flowery prose and over the top vocals, and it perfectly defines the era.
The British Lion Orchestra open up Disk 3 with "Girl On a Motorcycle", also lifted from Marianne Faithfull's previously mentioned film. It is mid-tempo bossa nova and is quite charming. I also enjoyed "London Bridge is Coming Down" from The Spectrum, with neat harmonies and prominent lead organ. Grapefruit's sprightly tune "Elevator" is most notable for including the elder brother of Angus Young, but is also an excellent pop tune in its own right, with a great melodic structure. "Peacock Dress" from Sun Dragon slightly reminds me of early Move (think: "I Can Hear the Grass Grow") and Who, and features Deep Purple members Ritchie Blackmore, Jon Lord, and Ian Paice. "Looking Towards the Sky" from Davey Paine & The Medium Wave is lovely psych pop that should have been a hit (like many songs here). "Violin Ship" from The Alan Bown is another psych pop masterpiece, a truly sublime example of '67-'68 era music. The sitar strewn instrumental cover of Donovan's "Sunshine Superman" from Big Jim Sullivan is really cool, featuring horns and tabla in the same mix. Really unique! "Tomorrow Never Knows" is a fun cover from The Mirage, and while it adds nothing new to the original, it's still great! "Flowers Are Flowering" from the appropriately named The 23rd Turnoff is heavily in debt to The Beatles and is a minor masterpiece of the genre. "Mr Universe" from Episode Six is notable for the inclusion of Deep Purple members Ian Glover and Roger Glover, and also hints at the future direction of these musicians. The excellent, West Coast influenced "I Don't Mind" from Fat Mattress is a beautiful, psych pop masterpiece that was penned by former Flowerpot Men singer Neil Landon and guitarist Noel Redding (Jimi Hendrix Experience). The Mod-inflected "Infatuation" by The Secrets was a definite precursor to 80s Mod masters The Jam. "Call Me Lightning" (same song covered by The Who) from The Good Vibrations is cool and groovy and will get your butt shaking! And the grand finale to this collection is the fuzzy guitar and Hammond Organ driven "The Meaning of Love" from Putney Bridge. This entire collection evokes a lot of memories from my childhood, and features a wide swathe of musical styles and unusual artists. Well worth picking up for collectors and music aficionados alike.