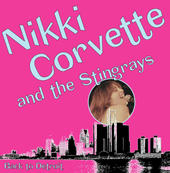 9 July 2006
NIKKI CORVETTE's music is like rainbow sherbet with a stripe of lipstick and leather. It's candy sweet with a streak of bad girl menace, powdered sugar with ground up glass—well, you get the picture. Twenty five years have now passed since NIKKI AND THE CORVETTES's self-titled full-length was released on BOMP in 1981, and its delectable combination of coquettish, '60s girl group style vocals and punk rock attitude has made the garage rock gems on the record true underground classics. While Corvette made a successful return to the spotlight in 2001, she has only recently released her first new material in decades on the LP Back to Detroit. Now playing as NIKKI CORVETTE AND THE STINGRAYS, she and her band floored me on the Brooklyn stop of their recent promotional tour.
The fact that Corvette was booked to play such a small venue as Trash Bar really speaks to how underappreciated she is, but after the show began and the room filled up, the intimate setting started to feel right. Onstage, Nikki bounced and bopped with abandon, and the huskiness that age has added to her voice made her cute 'n' snotty quips even better. After opening with "Just What I Need," the band introduced new songs such as "Back to Detroit" and "Who Wants to Be My Boyfriend." The crowd was very receptive to the new material, but really went psycho when Nikki sang "Summertime Fun" to the sweaty, dance-crazy kids and dedicated "He's A Mover" to the cute boys in the audience.
The set continued with oldies like "Let's Go" and "You Make Me Crazy" before she returned to stuff from Back to Detroit, including "He Rocks Me, He Rocks Me Not" and "Tokyo Boy," which she sassily sang to the (possibly) Japanese dude in the front row. After leaving the stage for a few moments, Corvette returned to shimmy around in her pink outfit some more, appeasing us with an amazing version of "Young and Crazy," which she addressed to the sexy hipster girlies going gaga in the front row. Finally, they played my favorite, "Girls Like Me," which filled the room with cries of "Girls like me were born to rock and roll!" during the chorus as Corvette triumphantly declared that we had indeed been part of the best show of the entire tour.
Discuss this review in The Big Takeover Forum
comments powered by