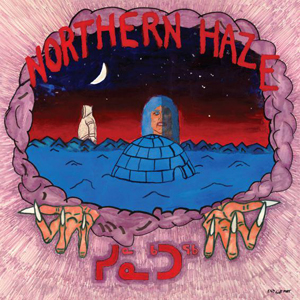 22 September 2012
When I heard about Northern Haze , a metal band from Igloolik (a tiny town in Nunavut) who've been making stoner-y heavy rock with lyrics sung in Inuktitut I was appropriately intrigued. They manage to eke out one recording in 37 years as a band, 1986's Sinnatuq (dreams) which was recorded in Ottawa as part of CBC radio's "Northern Service" recordings and released mainly to libraries and radio stations, bypassing any potential crowd or fans outside their tundra-based tours. That's a total shame too because the songs are really killer. Despite the odd synth flourishes (1986, right?), the riffs are meaty and hooky, the late Kolitalik Inukshuk 's vocals understated but gnarly, riffs cribbing straight from the church of Iommi with ripping and concise solos jammed liberally throughout. Sabbath-y, Motorhead-y in all the right places, they were/are a pretty banging band!
On the first side of this reissue, we're treated to three tracks recorded by Supreme Echo label honcho Jason Flower that bring an updated sound to the reconfigured NH lineup, with James Ungalaq taking over vocal duties in some solid and, in my opinion, better suited mixes for the band. Album fave for me would be "Qaina" which really mines their roots to lend a viscerally heavy foundation for the explosive jam at the end, horns up on this tune! Finally we get a taste of live Haze with a live festival track from 2002, sounding for all the world like a Les Rallizes Dénudés jam, just opens up a few levels of earnest prog laced rock balladry adorned with some inspired shredding by Kolatik, still alive and kicking at the time.
The reissue package, lovingly remastered, compiled and released with a great booklet in limited edition blubber-colored vinyl is still available on mail order from Supreme Echo. My hope is that more interest in Northern Haze might inspire these guys to record us a few more heavy tunes in the future!
comments powered by