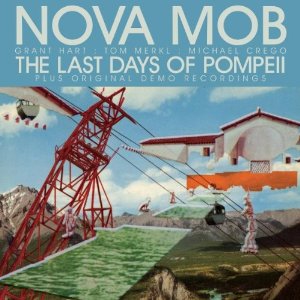 4 February 2011
Originally released in 1990 on the venerable Rough Trade label, The Last Days of Pompeii was the coming out party for Nova Mob, the Minneapolis trio formed by former Hüsker Dü singer/songwriter Grant Hart following the decks-clearing solo record Intolerance. Due to Rough Trade's American division being on its last legs at the time, the record didn't stick around long enough to ever really find an audience, making it almost a lost chapter in Hart's sporadic catalog.
Which is a shame, really, as this concept album is undeniably one of the most interesting projects in Hart's career. Experimental cuts like the bizarre spoken word "Space Jazz," the anthemic "Admiral of the Sea" (in two versions, one slow and brooding, the other psychedelic and loud) and the head-spinning "Getaway (Gateway) in Time" share space with pop tunes like "Over My Head," "Lavender and Grey" and "Where You Gonna Land (Next Time You Fall Off of Your Mountain)." The record also includes "Wernher Von Braun," no doubt the catchiest rock & roll song about a pioneering rocket scientist. The storyline gets lost in the singalong choruses and headlong rush of melody that has always been Hart's forte, but that's hardly a flaw here – his devotion to melody and songcraft would carry these tunes even if they were about cleaning toilets. Whether or not one buys into the overarching narrative, one must applaud Hart for pushing his music beyond what was expected of the former co-leader of one of 80s underground rock's most important bands.
This edition includes a handful of demo tracks that indicate Hart's vision was intact before he hit the studio. Unfortunately, the liner notes miss an opportunity to fill out the record's story, both its narrative and its conception – there aren't even any musician credits. But that's a minor quibble given the service being done in just brining the LP back into print.
comments powered by