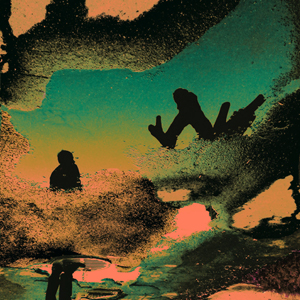 23 February 2016
Odd Limbs are an an anomalous band in a banal string of sameness. A warped pearl. The oblong and wobbly marble. There are a raft of golden moments on their newest album Walking on Light of sublime psychedelia, ripped desert-y meanderings and hooky garage jangle. In each song it is apparent that this is a band that pushes what it can desperately through it's own darkness. While so many dress themselves in black clouds to appear more diffuse and dark, these kids ring their melancholia true as if trying to beam a ripped beacon through the murky layers of angst that push ever upwards at the heavy stone of survival.
Opening with a sublime tremolo plod of "It's An Alarm", every bar is a further descent into hazy despair, each track a lonely mantra of bereft and burned soul. The Black Angels figure a bit in the monotone of "Blame it on the Supernatural" and the sun breaks out a bit on the lilting riff of "History of Black and White". As we delve deeper into the gyre of this deeply textured album, we hit a Ride influenced warble on "It's Our Time", watery guitars pixelated with pizzicato string plucks. Title track "Walking On Light" phases and flows timelessly emulating a lost and frustrated flaneur in a dystopian landscape before exploding into a sunny synth laden proggy peak, sounding for all the world like the end of an early Genesis record. One almost feels that this should be enough, that the album should stop here, but there is still much road to travel. It's a challenge, this album, a fright of obtuse angles and sinewy left turns. The protracted nature of this album perhaps weighs it down, melancholy is easier to receive in fits and starts, the ear and soul are easy to load down to the point of inertia. But, that too is something I've learned to respect in Odd Limbs. They are NOT inviting, they are simply dwelling within the somber and beautifully colored temple and it's up to us to enter. Not being chased after by an aesthetic is refreshing, it's brave and deliciously subjective.
Quite simply, like most of the better music these days, Walking On Light is a treasure offered but quickly buried. It's up to us, the seekers to dig it up and share in it's dark richness.

comments powered by