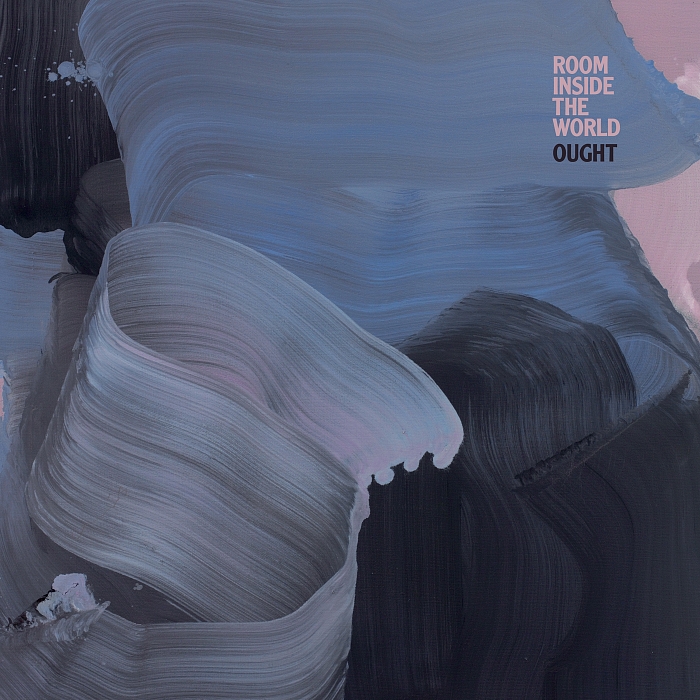 26 February 2018
Has it really been three years since the last record from this enigmatic Montreal foursome? One tends to grow a little too comfortable with the workmanship of this wave of post-punk revivalists—the likes of which including, but not limited to, posterchildren Ought and Protomartyr—who burst onto the scene a few years ago and have continued to record and release at a dependable, frenzied frequency. The space between LPs hasn't been a true three years however, plus we'd be nothing short of demanding when considering frontman Tim Darcy's Saturday Night from last year. Ought's third full-length Room Inside the World may just be that "perfect room" that Darcy imagined on "Passionate Turn," one album ago.
Long gone is the drawl and sneer Darcy displayed on efforts past. Perhaps in a tongue-in-cheek push to match the slight sheen of improved production, he alters his vocals to appear not exactly prettier, but showier. The approach is still proclaimed and somewhat facetious at the behest of its own avant-garde scripture, but here we find it delivered by someone whose finger presses their septum upwards to imitate dramatic theatre rather than a trouble-seeking rascal-cum-Jim Carrey as Tony Clifton. In other words, the boyish charm has been traded in for histrionics that at first beguile but eventually settle in quite comfortably. Several of the bands from this aforementioned "scene" (if you can call it that) pay direct homage to obvious influences such as Ian Curtis. Darcy now unmistakably embodies Robert Smith this time around. Just listen to the pronunciatory tact he applies to the line "Why must my dirty skin be hot when you come near me?"
Normally, one twitches or wretches at the mention of "art rock," but Ought are an exception to the term. Darcy alone has established himself as the game's preeminent poet laureate in 2014 when he first uttered on tape, "Forgiveness is a drug that you take with a shrug." There's plenty more of that similar acute, eye-rolling, truth-be-told vernacular on Room, whether he's recounting living "like a dentist, rooting for pain" or accusing someone of being "like the moon in a basket of wheat;" these comparisons retain the wit and introspection that made you buy your ticket in the first place. "Desire," from which the latter simile is based, is a bona fide ballad, although to what or whom is unclear. Regardless of clarity, it's a beauteous piece with a harmonious backing choir—an element possibly inspired by Darcy's solo debut—and reverb-laden saxophone, culminating in an outro that's well worth shedding a tear.
"Disaffectation" plays out like a post-punker's best guess at Rod Stewart's "Young Turks," and features one of the many instances of Tim Keen keeping up an impressively fluctuating and high-octane drumming regimen to fit Ought's prog-like affinity for avoiding standard songwriting norms. Even when moving at a steady march in "Take Everything," Keen still scurries about on the snare drum. When a deliberately minimal pattern is employed, sly soundboard techniques are put to good use. On Room's final two tracks, "Pieces Wasted" and "Alice" receive the Candy Apple Grey treatment on snare, dousing it in heavy reverb, lending the songs a dreamy yet industrial feel; apropos for both ending in hazy, quasi-psychedelic sprawls.
Room Inside the World is the group's best sounding album thus far, both in fidelity and composition. Welcome are the new, however possibly temporary crooning style of Darcy and the neat little instrumental flourishes to the mix such as sophisticated string accents in "These 3 Things." With a no-frills setup of guitar, bass, keys, and drums; Ought continue to be one of the most inventive bands of late, operating on the sheer ingenuity of its proprietors.
You may purchase the record here.