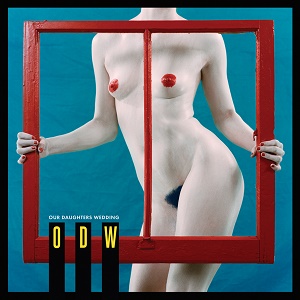 15 November 2016
New York-via-San Francisco's Our Daughter's Wedding only lasted from 1979-1984, yet, in those five years, they toured with Iggy Pop, U2, Duran Duran and The Psychedelic Furs, appeared on a budding MTV as guest hosts and delivered a synthpunk masterpiece that, sadly, became lost to time. For the first time since its original 1982 release, that mind-blowing full-length and their seminal 1981 Digital Cowboy EP get a fully remastered reissue so an entirely new generation can be exposed to their electronic genius.
Moving Windows stands out as a high point in the early '80s synthwave movement. Elements of early Depeche Mode, Soft Cell and Men Without Hats are all present, though there's much more going on than mere regurgitation. A heavy Kraftwerk influence pervades, extending to a pervading hi-nrg vibe recalling Patrick Cowley's most pulsing compositions. Elsewhere, Prince appears as the driving force on electro-funk tracks, predicting the emerging synth-laden hip hop of Egyptian Lover and Arabian Prince. The closing "Buildings," for example, could be Adrian Sherwood doing italo disco. Throughout, Keith Silva's vocals recall David Bowie at his most soulful, further broadening the pool of influence. Tacked onto the end, the five Digital Cowboy songs, including club favorite "Lawnchairs," show the trio in their throbbing early days, where synthesizers replaced guitars in their vision of punk.
Our Daughter's Wedding may not have lasted long, but their music still holds up today. Hear them for the first time and marvel at how they didn't get bigger.
comments powered by