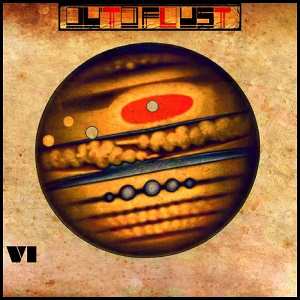 12 January 2016
Osaka, Japan's premiere ex-pat improvisers, Out of Dust, continue pushing the boundaries of jazz on their sixth release of new material.
While Big Red Spot tones down the frenetic intensity of previous efforts, it is no less engaging. "Black Screen" opens with a psychedelic funk groove established by bassist Garry Lindon that ebbs and flows around drummer Eric Wiegmann's recitation of Peter Ramos' poetry. "So Sings the Wheat" follows with a distinctly Italian sound as Lindon's fretless bass and Vladimir Jocic's acoustic guitar patterns recall Goblin. The Italian vibe continues on the title track, a moving score for a nonexistent crime drama. Finally, "Stepper's Uptown" delivers driving dub, allowing Mark Elshout to fully display his horn/reed prowess as the default vocal alternative while Wiegmann dominates the rhythm with his relentless drums. It's laid back, but smart and deceptively complex, a little smooth, a tad pop and hypnotic as hell.
Out of Dust left 2015 on a high note. Now we'll see how much further they go in the new year.
comments powered by