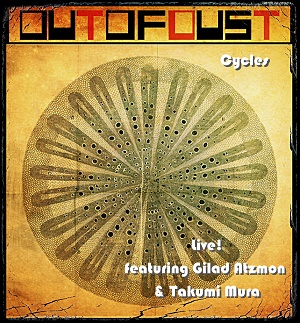 23 September 2015
Osaka, Japan's Out of Dust team up with controversial saxophonist Gilad Atzmon and upstart guitarist Takumi Mura for an explosive two-set night of hard bop mixed with fusion tendencies recorded live in Kobe.
Stripped down to drummer Eric Wiegmann, bassist Garry Lindon and multi-instrumentalist Mark Elshout, with Atzmon and Mura, Cycles takes a conscious step away from the funk and spacerock-infused experiments of their early days for an exciting recording full of passion, fury and beauty. Here, the core Out of Dust triad lays down a soulful, elegant foundation from which their special guests celebrate the past seventy-five years of jazz. Atzmon's vibe recalls Pharoah Sanders, effortlessly shifting between John Coltrane cacophony and Charlie Parker's frenetic solos, while Mura tastefully trades subtle, muted delayed and/or chorused movement with loud Al Di Meola solos. It's a concert of bombast and beauty that sucks you in and keeps you mesmerized for the full one hundred minutes.
Despite shifting lineups, Out of Dust still hold their own with thoroughly engaging music that acknowledges the past while affirming the present. Dig into Cycles and be there over and over again.
comments powered by