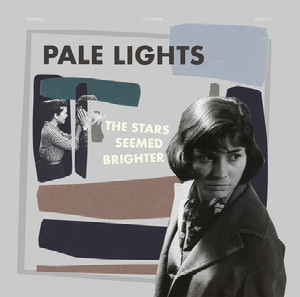 29 December 2017
What a treat and a pleasure it is to review this sparkling and grand new release from NYC's Pale Lights. The album was recorded with the band's friend and mentor Gary Olson at Marlborough Farms in Brooklyn. I listen to The Stars Seemed Brighter and wonder how they summon such creative talents on all their work, fine, crystalline pop with a gentle dream pop cadence and hints of psych pop. It's like they channeled Lloyd Cole's entire catalogue and mashed it up with the best of Flying Nun and Postcard era music. At other times, I am reminded of The Go Betweens and Belle and Sebastian. But beyond all this name checking, guitarist/vocalist Phil Sutton and company create such terrific, original songs that it rises above all the labels that a scribe like me might come up with. And that's what matters when it comes down to it.
Every song here is worthwhile and excellent. Yes, I am raving like a mad hatter, but this record has taken this listener by storm. When I hear music this effortless and luminous, it makes up for all the terrible shit going on in all the world, and all the dreck I am forced to endure on commercial radio. Take the pretty opener, "100 Years", which has those lovely organ washes I adore so much, with the caress of Phil's vocals and the smoothly textured guitar. And oh, "Mother Cries" is awesome. The retro guitar surfs in Veronica Falls territory with a taste of VU hovering in the mix. It also reeks of Flying Nun influence, which is always a great thing. Definitely one of my favorite songs here! "I Will Not Pray" is a sleeper of a tune, one that sneaks up on you with its casual cadence, but it's the sharp lyrics and delightful backing vocals that snare you completely. "Jean, Bring the Flowers", the title track of the band's three song EP, is wonderful. It starts off with a slightly off kilter melody and then that chorus drenches your ears, and wow, this is a catchy tune. I swear I am listening to C86 music, not something that came out a few weeks ago. It's a modern take on a vintage era, and these guys and gals pull it off with aplomb.
"The Army Game" is somber in the way The Chills are known for, yet the grand melody and sunny, tropical feel overpower any chill in the air. "Poor Old Ruby Ellen" again reminds me of the fantastic, dearly missed Veronica Falls. Perhaps it all comes down to love of the Velvet Underground, which is hardly a fault of any of these groups that revere them so. "The Sounds" has that off center vibe that I love so much in music like this. There's certainly a hook, but it's less obvious than more immediate songs. "Coming Up For Air" reminisces about the past places lived in, and how much things change. "Goodnight" is a warm send-off to listeners, with exquisite harmonies, great lyrics, and is an all around gorgeous tune. Hats off to Pale Lights for this record, easily one of the best of 2017. Catch up with the band over at Bandcamp and on their Facebook page.