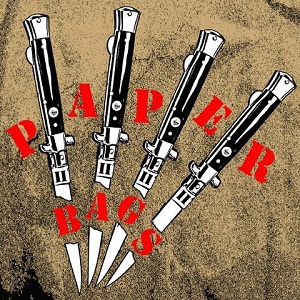 18 July 2012
From the slums of San Francisco, Paper Bags creep out of the shadows with four songs that could easily fit on a Killed By Death comp if they had been recorded 30 years ago.
This is garage punk of the highest order, which makes sense considering the band contains members of The Radio Reelers, The Complaints and The Trust Fund Babies. The opening "Knife" lets us know what we're in for, i.e., razor-sharp pre-hardcore punk riffing – the kind you want to hear while half in the bag at your favorite punk dive. A revved-up rendition of The Tragics' aka The Misfits (from Albany, NY) "Mommi I'm a Misfit" follows.
"S.Y.F.A.T.B.," literally "See You Fucks at the Bar" brings in the alcoholic scumbag element – one I very much relate to, and "Met a Girl" ends things with a woeful tale of venereal disease.
This is the perfect release for when you're halfway though your 12-pack on your Saturday and you're tired of the same old songs on your KBD records. Crack open another can because you've only got one more day before you return to work. Carpe diem, buddy.
comments powered by