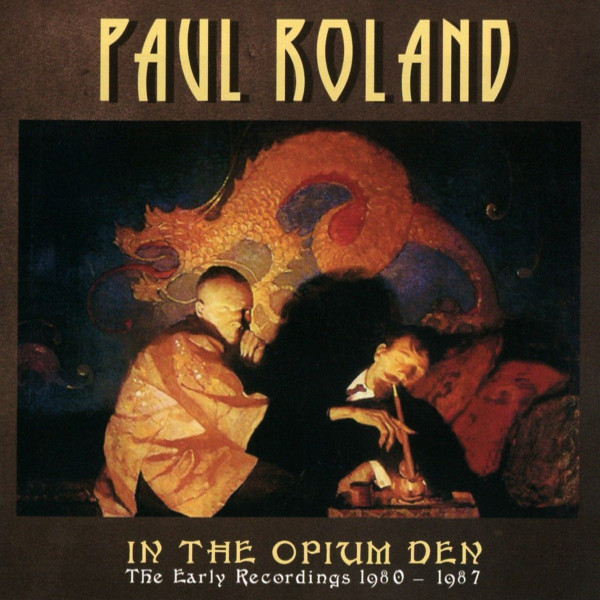 30 May 2016
Who is Paul Roland, exactly? Have you heard his music anywhere, or read anything about him except in blogs like The Active Listener or extremely obscure magazines like UK zine Bucketfull of Brains? I can answer that question in part, since I've been following Roland's work for over thirty years. He is a compatriot of Robyn Hitchcock, his one time label mate on Armageddon Records, who says, 'Paul has been called "The male Kate Bush", and "the Edgar Allen Poe of psych pop" by several European rock magazines/critics. Does that help? Personally, I don't see the Kate Bush reference, but he is definitely from the eccentric school of psychedelic pop that crosses genres into gothic and synth pop with creepy overtones. Think Legendary Pink Dots, and you're getting warmer. His lyrics smack of horror themes ("Witchfinder General", "Madame Guillotine", "Werewolves of London"), but have amazing, memorable and often glorious melodies surrounding his dark subject matter. He is the quintessential cult songwriter, and his subject matter is infused with Victoriana and classic horror fiction.
This collection of his early works was compiled and curated by Roland, and includes his first three albums plus A and B sides, EP tracks, and unreleased tracks from this period, right up through 1987. He has subsequently released many albums as well as authoring over 50 books, but these early recordings are what established his cult status. During this period, he flirted with a diverse range of styles from goth through dark folk to psych pop and even steampunk ("The Great Edwardian Air Raid"). Guest musicians include Robyn Hitchcock, Bevis Frond, Nick Nicely, Knox of The Vibrators, and Andy Ellison (of John's Children).
So where does that leave us? For starters, this is an excellent compendium of Roland's work and contains my absolute favorite album by him, Danse Macabre. It contains the aforementioned psych folk steampunk ditty, "The Great Edwardian Air Raid", which actually reminds me of Justin Sullivan's acoustic solo record Navigating By The Stars. The difference here is that Roland throws in a bit of Renaissance instrumentation. And then there is the gorgeous, should-have-been-a-hit about a ghost, "Gabrielle". It has a quiet menace, yet its compelling hooks and ornate melody suck you straight in.
The pretty "Still Falls The Snow" is also accessible, having an almost Spaghetti Western feel to its melodic backdrop. You may recognize "Matilda Mother", for it's a Pink Floyd cover. Roland dresses it up with roller rink organ and strings. I also enjoy "Requiem", a violin driven song that flits about sun-starved graveyards like a lonely wraith. "Buccaneers" has the air of a sea chantey and the style fits Roland well. "In the Opium Den" is disconcerting and trippy, with phantom of the opera keyboards and bits of sitar filtering through.
Shifting to Burnt Orchids, Roland has stepped up the instrumentation a bit, wrapping his compositions with complex, dense melodies and lyrics that draw blood in a few spots ("Death or Glory"). The title song is multi-hued, and despite the sprightly melody, it is a somber masterpiece. "Captain Blood" employs fuzzed out guitars and flute to top off an already cool tune. "Cairo" is a bit of wyrd folk with xylophone and other unusual instruments and rather twisted lyrics. "Green Glass Violins" starts up with a heavenly choir that is soon joined by eerie violin and then Roland sings about a frustrated composer.
"Beau Brummel" is an unlikely chamber pop tune about the famous dandy, and it is punctuated by pizzicato and what sounds like a penny-whistle. The other tune from the Death or Glory EP is "Berlin", which sounds like something Robyn Hitchcock might write. It is pretty, acoustic folk with a baroque feel. And then we move to The Werewolf of London, which starts off with the striking "Blades of Battenburg", a strong effort with a memorable melody. "Brain Police" is a synth pop tune which would fit in well with today's paranoia about terrorists and being spied on. "The Cars That Ate New York" is downright creepy, at least judging by the scary sound effects at the beginning. It is the kind of thing that makes my skin crawl, to be honest. Sort of like a metallic insect clicking its claws. The song itself unfolds normally enough into standard synth pop fare. "Public Enemy" is another song filled with spies and law enforcement types, which seems to fascinate Roland. "Werewolves of London" (not the Warren Zevon song) is another sinister tune, with vintage music at its close. No surprise that Roland also wrote about the man of a thousand faces, "Lon Chaney". The song is pretty enough, but it's the lyrics that draw the ear here. "Jack Daniels" is a standard, twelve bar blues tune, completely uncharacteristic of the other tunes here.
"The Ghoul" and "The Old Dark House" were culled from an unreleased second album. The first of these two has a fetching melody and relatively upbeat feel. "The Old Dark House" is disquieting and uneasy, with lead organ and an all over sinister feel to it. We then head to singles and EPs, with songs like straight ahead rocker "Hot George", the metronomic and trippy "Dr. Strange", the lonely lady in the brooding dark folk piece "Madeline", and on to Hitchcockian ditties such as "Cavalier". "Sword and Sorcery" is a screeching rocker, while "Happy Families" is deceptively light. Just listen to the lyrics to get a completely different take on this song! In summary, Paul Roland is a fascinating composer with a myriad of sonic tricks up his sleeve, leading listeners on an always interesting if somewhat spooky musical adventure. Highly recommended for fans of early Pink Floyd, Robyn Hitchcock, and other eccentric artists that fit this description.
The album is available here and here.
Catch up with Paul Roland on his Facebook page.
comments powered by