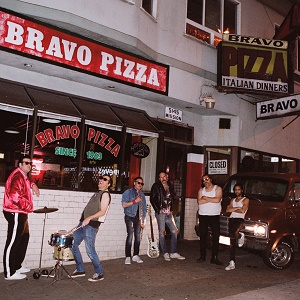 29 November 2016
Having released a slew of 7"s and a lone full-length, New Jersey's Personal and the Pizzas finally return with another long player that reminds us why they're the greatest thug rock band in the world.
Full of Ramones worship and Iggy and the Stooges riffs, Personal and the Pizzas immediately steps forward as your next all-night party record. The first side of the record collects some of their best out-of-print 7" tracks, like the football hooligan rock of "Brain Damage" and "Dead Meat," which sounds like Joey Ramone singing for The Dictators, while the second half delivers some new tracks that effectively tone down the Ramones vibe in favor of a more visceral Stooge-laden proto-punk onslaught recalling JJ & the Real Jerks. The five-and-a-half minute wailing guitar attack of "Death Threat" alone is enough to make you ask, "DMZ who?" Like Johnny Utah from Point Break, it's "young, dumb and full of cum" and they certainly ain't takin' no lip from you so shaddap you face.
Personal and the Pizzas aren't goinna change the world. They're gonna don leather jackets, grease their hair, eat pizza and wash it down with a pitcher of beer. Then they'll beat you up for moving into their neighborhood. Buy the album and maybe the beating won't be so bad, know what I mean?