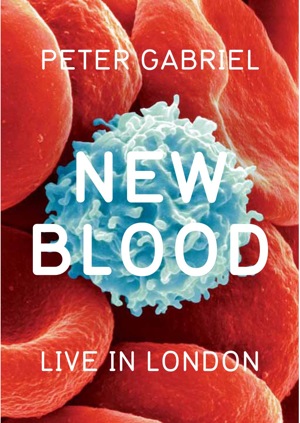 17 November 2011
Fans of Peter Gabriel's pop music have learned to become patient. Well established as a veteran artist, Gabriel is like a tenured professor. He can chase any whim he likes, for as long as he likes, and still keep his job (and the lion's share of his audience). Recall that Gabriel's last album of original music, Up, was released nine years ago – and its predecessor Us was released ten years before that.
In the meantime, however, Gabriel has kept very busy musically, with side projects and multiple concert DVDs as evidence. His last studio album, 2010's Scratch My Back, launched an ambitious song-swapping project wherein Gabriel covered a dozen songs by artists he admires, using orchestra and solo voice for the arrangements. The concept was that the covered artists would return the favor with a Gabriel cover of their own (presumably to be called I'll Scratch Yours). The answer project has yet to materialize, but it did immerse Gabriel into a lengthy fascination with orchestral arrangements. The New Blood tour was the culmination of that.
Live in London captures twenty-two songs performed in March of 2011, predominantly Gabriel originals. Gabriel and two backup singers (including daughter Melanie) are supported by a 46-piece orchestra – no rock instrumentation. The result is a real departure from the more conventional classic rock band treatment practiced by groups including Yes, Deep Purple and Metallica, with string flourishes substituted in place of keyboards. If you've got a decent sound system, the power infused into stirring songs including "Biko," "Darkness," and "San Jacinto" can make the hair stand up on the back of your neck. The skittering strings during "Intruder" create a tense and creepy mood for Gabriel's sinister story-song. The brass during "Digging in the Dirt" isn't exactly funky, but it's bracing nonetheless. "The Rhythm of the Heat" is arguably the closest to its original studio incarnation, but the orchestration adds a widescreen shimmer to an intrinsically cinematic song.
The set includes a few of the Scratch My Back covers. For an undertaking which seems very pretentious on the surface, Gabriel does a good job of bringing levity in the right places. When talking about his love for Paul Simon's "The Boy in the Bubble," Gabriel admits to removing the song's joyful musical bounce and African blood, leaving "another miserable white man song." Regina Spektor's "Après moi" is delivered with spirit and affection. The Magnetic Fields' "The Book of Love" may tip into the realm of schmaltz, but it was always a song that wore its heart on its sleeve. Lou Reed's "The Power of the Heart" is another romantic number. Gabriel notes that it represented Reed's proposal to Laurie Anderson.
The disc includes a documentary called Blood Donors covering the undertaking of the large presentation and the process of filming it in 3D. I saw the DVD version, which includes a very nice and revealing surround sound mix. New Blood is also available in Blu-Ray and 3D Blu-Ray formats. The film is beautifully staged and shot, with Gabriel occasionally getting into the action by manipulating a camera hung from the rigging or wearing a large harness with cameras mounted onto it. The harness camera focuses on Gabriel himself, leaving him stationary as his surroundings swirl around him.
Gabriel claims in Blood Donors that many people who have expressed distaste for his pop songwriting have taken a liking to his orchestral excursion. It does seem difficult to think New Blood will win Gabriel many brand new fans. This seems like a gift to his most committed devotees – the ones who are interested to see Gabriel unmake and recreate a favorite song like "Solsbury Hill," and the ones who want to focus upon the power of his singular voice. The rest of Gabriel's audience are likely waiting for that promised new album of original material. It'll be ten years in 2012, which should be just about time.
comments powered by