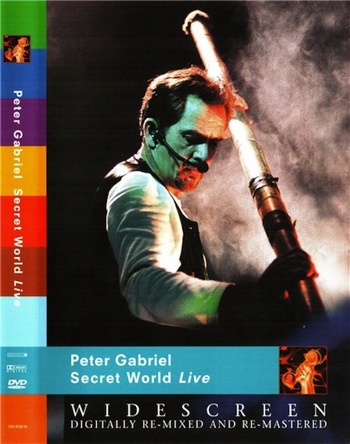 27 October 2012
Originally released both on VHS and as a live album in 1994, Secret World Live documented the world tour for Peter Gabriel's Us album. Unlike 1982's Plays Live from the tour supporting Gabriel's fourth self-titled album (a.k.a. Security), Secret World Live was not remastered for Gabriel's solo career-spanning reissue program in 2002 – despite long-standing complaints regarding picture and sound quality (rare for a project by the meticulous Gabriel). Ten years later, Secret World Live receives that overdue overhaul along with extras to make up for the wait.
While Plays Live captured Gabriel's early innovation following his departure from Genesis, Secret World Live records his peak successes with four songs from 1986's So and seven from 1992's victory lap Us. Although So's "Big Time" was not performed on this tour, Secret World Live in 2012 restores previously omitted US #3 chart hit "Red Rain" to the track list.
Gabriel's finest touring band to date performs this set, featuring bassist Tony Levin, longtime foil David Rhodes on guitar, and French drumming wonder Manu Katché. A pre-"Where Have All the Cowboys Gone" Paula Cole plays an essential role, providing provocative counterpoint to Gabriel's earthen voice. In particular, she calms and reassures Gabriel's careworn character during "Don't Give Up," playing a role originated by Kate Bush.
Make no mistake, Secret World Live is as much theater as it is music. The song selection and running order traverse Gabriel's themes of self-discovery, connection to others, and reconciliation between male and female. Bonus features include a documentary in which Gabriel describes his ambition for the show as his grandest since Genesis Lamb Lies Down on Broadway tour, and the challenges in pulling it off visually.
The stage design features a rigid, red phone box on the square-shaped "male" stage, from which Gabriel struggles to communicate during "Come Talk to Me." At the center of the round "female" stage is a tree of life, the realization of which Gabriel laughingly describes as reminiscent of Spinal Tap's diminutive Stonehenge monument. Images of the "show beneath the show" are also captivating, with a large crew busily at work to create illusions and manage expertly timed set changes.
The two stages are connected by a long catwalk, which is traversed by the band during "Across the River" accompanied by Shankar's ghostly, haunting violin. Jarring images from Gabriel's "Head-Cam" punctuate the pursuit of ugly but purifying truth about himself during "Digging in the Dirt."
Gabriel's abiding love for world music is apparent through the Middle Eastern origins of Levon Minassian's doudouk solo and the jubilant African elements in guest Papa Wemba's appearance during the celebratory "In Your Eyes." Jean Claude Naimro himself creates a world of sonic imagery on keyboard throughout the show, and keeps things moving while the band dances circles around the female stage during the joyful "Solsbury Hill."
"Solsbury Hill" is one of only two tracks from Gabriel's four self-titled albums, the other being "San Jacinto" from his fourth (Security). For "Shock the Monkey," you'll have to go to Plays Live. "Biko" can be found on Plays Live and 2005's Still Growing Up.
Other features include time lapse video of a day in the life of the tour, from load-in through the show to load-out. The "Quiet Steam" video includes a subdued and hypnotic reinvention of the Us album's funky single version, accompanied by still images from the tour. "Rhythm of the Heat" is also included with orchestral accompaniment as a commercial for Gabriel's New Blood DVD.
The improved picture quality, fresh remaster and new surround sound mixes are worth hearing, even if you played the live album as much as I did eighteen years ago. The extras are icing on the cake. For the newly curious, Secret World Live provides a compelling overview from Peter Gabriel's heyday.
comments powered by