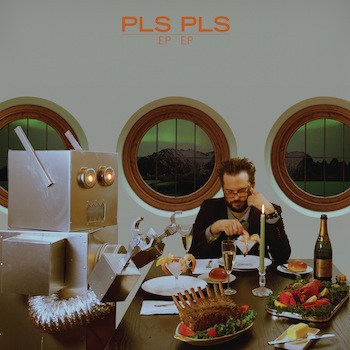 10 January 2013
Hard-working Atlanta-based rockers Dropsonic quietly dissolved following the release of half a dozen great but unheralded records. It's hard to imagine what Dan Dixon knew after 2010's VI that he didn't know after 2005's Insects with Angel Wings, but I'm glad the trio produced a deep catalog that I can revisit anytime I get nostalgic. Because Dixon's new project PLS PLS isn't the same thing.
There are connections, to be sure. Dixon's siren howl resurfaces during "Cocaine" and "Let's Be Fake." His lyrics are still a means to exorcise personal demons and wicked intentions on tracks like "River Song." But it's all channeled with a different energy, and utterly no sense of rock purism. Dixon's rare skill as a fiery lead guitarist of the 1970's vintage is deliberately subdued, but in its place during songs like "Here Come the Wolves" are an ease with inventive textures and sounds that merit comparisons ranging from the Smiths' Johnny Marr to Wilco's Nels Cline. PLS PLS is outside the box. Experimental. Looser. Some of it even suggests Dixon had actual fun making it.
Put it another way – the very first song that came to mind after dropping EP EP into the player and launching "River Song" was "State of Shock" by Michael Jackson and Mick Jagger. Ultimately, the song settles into something that might better resemble (advance apologies to Dixon for this overused reference) Radiohead's "There There," with a nasty, spitting guitar riff and tribal-heavy percussion. The heavy atmosphere created by the song's synthesizer pad is something altogether alien, though. It hangs over the mix like an angry cloud, threatening destruction and doom.
During "Here Come the Wolves," Dixon's vocals are swallowed by drummer Darren Dodd's rock and roll thunder, in addition to some cruelly bent and twisted guitar treatments. There's as much Spiritualized, Supergrass and My Bloody Valentine at work here as Led Zeppelin.
A decidedly new spin on Georgia-based blues/folk one-man-band Abner Jay's "Cocaine" is a hard-bitten ode to a grim mistress, drenched in reverb and teasingly sweetened with acoustic guitar. Vocalist Elijah Jones of The Constellations adds his tremulous baritone and has his say. It's a fitting duet. Misery, after all, loves company.
"60's Love Song" could have been a perfectly lovely pop crooner in the wrong hands. Dixon slows the tempo to an elephant's lumber and scrawls all over the sonic palette with more mistreated guitar, ghostly keyboard and white noise.
Dixon makes the cleanest break with his musical history on "Let's Be Fake." A steady dub bass line and slithery call-and-response vocal hook suggest a feel-good vibe at the club, but arid swaths of synth tones rise and fade like the Doppler shift of traffic fading into the highway distance.
Dixon's taking his audience somewhere new with PLS PLS. He's primed to pick up a different style of listener that favors genre-tweaking indie rock and tuneful experimentation over Dropsonic's fearsome old-school chops. For those with a taste for both, it's a case of having the cake and eating it, too. Dig in.
---
General market video for
PLS
PLS
single "Cocaine" from
EP EP
:
Click here for the uncensored video for "Cocaine" (NSFW).
PLS PLS at 24 Hour Service Station
comments powered by