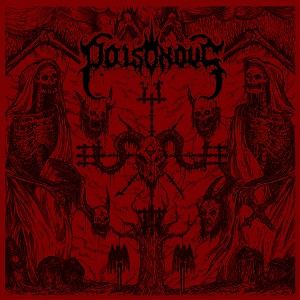 3 July 2012
Since the early '80s, Brazil has produced some of the best, most influential and unique extreme metal ever recorded. With Perdition's Den, Poisonous make their mark, not only on the Brazilian metal scene, but on death metal as a whole.
From the opening "Subterranean Rules," Poisonous eagerly grab the reigns and squeeze the life out of the poor beast within them. Their music is technically adept while remaining organic. This isn't hi-tech Scandinavian trend worship, this is pure analog jungle holocaust. Tempos stop, start and change direction with maniacal unpredictability. Michael Hellriff's guitar is a down-tuned buzzsaw, accentuating the frenetic energy of drummer Alex Rocha and bassist E. Evil. The title track alone is an exercise in brutality, a relentless onslaught of pummeling beats and razor-sharp guitar, not to mention the preceding "Blasphemy Arises from the Knowledge" and the following "Under the Blessing of Death." This is furious rage in its purest form, unapologetic, unsympathetic, uncompromising, uninhibited animalistic fury that attacks only to kill.
Due out in mid-July, this domestic release from Metalhit.com also includes the three-song Poisonous demo from 2009. Though a slightly rougher recording, the power of their eponymous theme song and ballistic cover of Sarcófago's "The Black Vomit" cannot be denied.
This magnificent release is sure to mark the future of death metal for the better. Hail!
comments powered by