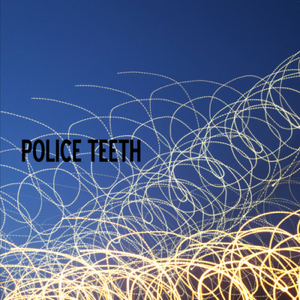 12 January 2013
Seattle's Police Teeth are hard-rock scholars with a knack for matching '70s heft to '90s angularity. Like fellow Washington State heavies The Melvins, KARP and Federation X, there's camaraderie and humor to its aggressiveness.
The trio's self-titled LP, its fourth, finds singer-guitarist James Burns carrying the weight of two axemen, while "Tall Chris" Rasmussen's meaty bass tone and Richy Boyer's strident drumming fills the sound.
Lyrical content leans heavily on local music scene politics, delivered snarkily but with a knowing wink. Opener "Bellingham Media Blackout" visualizes disaster striking the band's tranquil hometown. "Your friends tried calling in the National Guard, but they ain't never heard of you / Don't bother asking if they know who you are / Don't bother asking if they'll send help soon."
Another recurring theme concerns feeling more understood by Midwest audiences than Northwest ones. "If 2,000 miles is all we need to have a good night, then 2,000 miles is a trip that I'm willing to take," sings Burns on "Chicago One Point Five." "We'll trade our oceans in for a great lake."
Common for this strain of burly noise-rock, the vocals are serviceable if not particularly commanding, occasionally clashing with the virility of the riffs.
Still — though for rockers only — there's a discernible sense of enjoyment and confidence to Police Teeth's 10 solid, unpretentious songs.