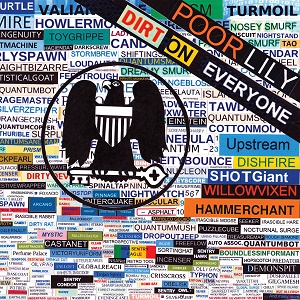 19 October 2016
Bronx-based spastic punks Poor Lily reach new heights with an ambitious thirty minute punk rock opera about the NSA and mass surveillance.
Dirt on Everyone finds the trio at their most Nomeansno. Advanced musicianship, chanting vocals and syncopation dominate through seamlessly connected blasts of post-Minutemen fury. Certain elements brilliantly recall Frankenchrist-era Dead Kennedys and post-Red Medicine Fugazi while The Molecules also appear in brief exchanges. The packaging is equally impressive, containing a full-color twenty-page booklet of subversive anti-establishment art.
Too many bands fall into the punk rock rut, but Poor Lily defy the status quo by remaining fresh, energetic and always unpredictable. Let Dirt on Everyone define why punk rock is better with more than three chords.