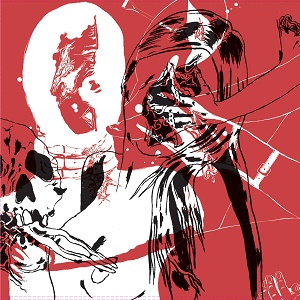 4 December 2015
New York City-based experimental jazz trio, Premature Burial, deliver a mind bending debut that serves as a wormhole to the other side of the universe.
The Conjuring exists on another plane. Rather than depict the known world around us, Peter Evans (piccolo trumpet), Matt Nelson (saxophone/effects) and Dan Peck (tuba/effects) create an otherworldly soundscape where alien animals frolic in the humidity of a jungle planet billions of light years away. These aren't conversations between musicians, they're the guttural growls and predatory shrieks of beings beyond our realm of comprehension. Mammoth screams of extra-terrestrial fury rage against slithering rattles and blasts of pure bestial energy. It's the landscape of The Herculoids and the creatures of Fantastic Planet converging in an entirely new space and time.
Though the members of Premature Burial are all accomplished musicians on their own, their work as a unit is simply magical. Dive into a wormhole and drop into a place of fascination, danger and excitement.
comments powered by