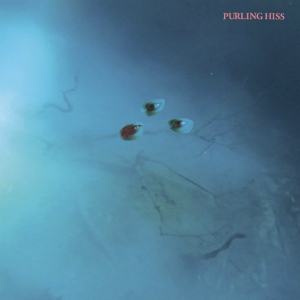 25 September 2016
Philadelphia's heavy psych group Purling Hiss is primarily guitarist/singer/songwriter Mike Polizze, with help from bassist Dan Provenzano and drummer Ben Leaphart. The group started up in 2009 and has once again delivered a cool melange of psych, garage rock, and punk, all tied up in the strength of songs like the hard hitting "Fever" with huge, memorable hooks.
"3000 AD" is even wilder, with a massive wall of guitar and bass propelling the tune along. The vocals are subdued, almost droning at first, before neatly cutting into the mix.
"Follow You Around" is engaging jangle pop, with a comfortably familiar melody that reminds me of the Dandy Warhols, or maybe just a bit of Anton Newcombe influence. It's all delivered with a laid back vibe, right until "Teddy's Servo Motors" rips through your brain. The other songs are good, especially the psych inflected "Ostinato Musik", with rippling waves of guitar and metronomic rhythm, and the punky snarl of "Everybody in the USA". In short, Purling Hiss has delivered a solid effort, one worth checking out for fans of heavier psychedelia.
Catch up with the band on Facebook and over at Drag City.
comments powered by