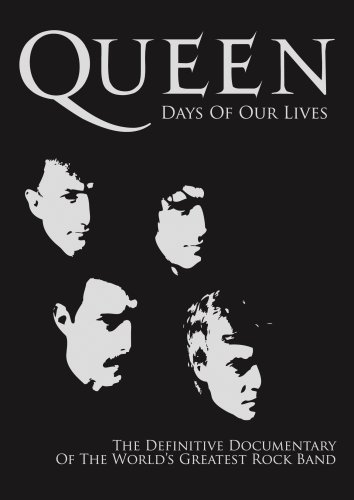 30 May 2012
In a field perhaps over-filled with unauthorized biographies, Queen documentary Days of Our Lives benefits from full band involvement. It's a refreshing and illuminating look into the arc of the band's stadium-sized career. The documentary is split into two episodes. Although it's difficult to think of Queen having ever been a scrappy underdog, the film describes the band's origins with the college-aged partnership between guitarist Brian May and drummer Roger Taylor in Smile, continuing through the lean period behind Queen's first three studio albums. While their management team were buying Rolls Royces, Taylor was being told that the band could not afford for him to continue breaking drumsticks during performances.
Days of Our Lives is built upon recent interview footage with the surviving members, as well as archival footage of the group including one-of-a-kind frontman Freddie Mercury. Important figures close to the group including Elton John's manager John Reid (who managed Queen from 1975-1977 during their A Night at the Opera and A Day at the Races albums), producer Roy Thomas Baker, and engineer Reinhold Mack (who helmed the band's biggest hits "Crazy Little Thing Called Love" and "Another One Bites the Dust") complete the picture. Stories of lavish parties and tours, creative struggle and success, a volatile relationship with the media, and unwavering trust in the band's audience culminate in the moment when Queen became literally the biggest rock band in the world during 1980's tour supporting The Game.
Episode II begins with Queen reveling in their role as rock's most prominent force. After "Another One Bites the Dust" went to number one in the United States, Queen broke barriers in 1981 by playing to 200,000 in Argentina. When the band returned to Munich for work on the much-maligned, dance-oriented Hot Space album, things took a darker turn. Band members engaged in self-destructive behavior as outside influences created tension among the players. Queen's subsequent tour saw them shed much of their American audience, as many once-stalwart fans refused to embrace the band's new direction. "The hardest thing is to actually maintain the level of success that you have achieved," says Mercury in interview footage. "Because I think when you go all the way up, the only place is to come down."
The documentary makes for great drama, spiked with a rise to glory, fall from grace, vindication, comedy, tragedy, conflict and brotherly love. The examination of Mercury's illness and death is unflinching, and moving. Above all, the film is filled with ambitious and extravagant rock and roll. Queen's music has outlived the late great Mercury, will outlive the rest of the group, and almost certainly the rest of us. God save the Queen.
comments powered by