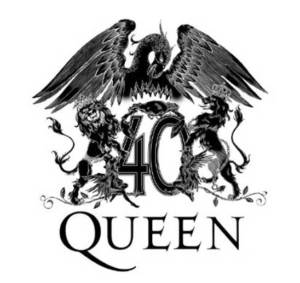 22 September 2011
Hollywood Records' second Queen box arrives in time to commemorate both the band's 40th anniversary and what would have been Freddie Mercury's 65th birthday. The five albums included represent the band's peak of global popularity and greatest commercial successes, coincident with their shift from elaborately arranged musical excursions toward more compact arrangements.
1977's 4x platinum-selling News of the World includes guitarist Brian May's stadium-shaking sports anthem "We Will Rock You," paired with Mercury's empowering "We Are the Champions." 1978's Jazz is best remembered for the double-A side of May's randy "Fat Bottomed Girls" paired with Mercury's quizzical and experimental "Bicycle Race."
1980's The Game was Queen's most restrained effort, and its biggest US success at number one on the album chart. Bassist John Deacon crafted the band's most successful single with the pulsing "Another One Bites the Dust." Mercury also took Queen to number one with the roots-pop of "Crazy Little Thing Called Love."
The band's mostly instrumental soundtrack to sci-fi film Flash Gordon remains a curiosity, leaning heavily upon the band's still-fresh embrace of synthesizer technology. Best remembered for the campy "Flash's Theme" and bombastic "The Hero," the album might stand up better as Queen music without sound clips from the movie. That said, the album puts me directly in touch with my 12 year old self, who loves it as is. "Forget it, Ming – Dale's with me!"
1982's Hot Space rounds out the set. Queen's detour into dance-pop was a response to the success of "Another One Bites the Dust." The band failed to recreate that massive success, but charted with the nearly guitar-less "Body Language." Also included is the band's enduring collaboration with David Bowie, "Under Pressure."
Each remastered album includes a second disc. Bonus tracks include single edits, alternate mixes and takes, and B-sides. Jazz includes an instrumental mix of "Bicycle Race" which reveals details in the whimsical arrangement which were obscured by the song's densely layered vocals. The Game includes drummer Roger Taylor's meandering but competent B-side "Human Body." Its roots-rock guitar and vocal hooks intentionally clash with the computerized voice repeating the word "human" in the chorus. From Hot Space, "Under Pressure" B-side "Soul Brother" is more tuneful, featuring Gospel piano and Mercury's R&B-influenced vocal. The lyric is a tongue-in-cheek trifle, name-checking many of Queen's own previous singles.
Though this overview emphasizes familiar hits, the box set's true appeal is hearing those songs lifted from the homogenized presentation of Queen's several greatest-hits packages, placing them back within the context of their chronological history. Each album in this set reveals the rare songwriting and performing depth of an undeniably formidable rock band. The set features two bona fide rock classics in News of the World and The Game. The lesser but still great Jazz remains a must-have for even casual fans. Flash Gordon is pure campy fun and worth visiting as an oddity. Though it may be revisited least often, Hot Space is worthwhile as an interesting stepping stone toward 1984's memorable The Works. Taken together, these albums present a band that was both willing to take risks and able to get away with them. God save the Queen.
comments powered by