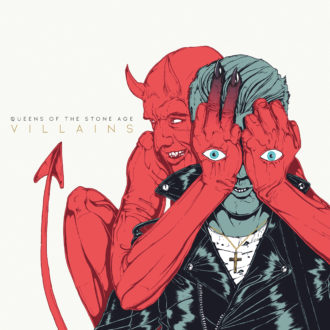 27 August 2017
Queens of the Stone Age return with their seventh studio album, Villains, and not surprisingly it swings, rocks, and grooves. All of the signature markings of QOTSA lay intact: guitars riffing via call and response, swinging beats, great lyrics and the signature sound of Josh Homme's vocals. The only thing lacking is a list of guest stars playing on the album. Of course there is a big name tied to this record but any fears of a disaster after hooking up with producer Mark Ronson known for his work with Amy Winehouse, Bruno Mars and other "pop stars" can be laid to rest. This is a talented band with a sound they have created over 20 years, going from small clubs like the now defunct Coney Island High on St Marks in the East Village, to headlining Madison Square Garden.
"Feet Don't Fail Me" opens slowly for nearly 2 minutes before the guitar, bass, and drums swing into place – the keyboard flourishes work well here as they do on other tracks throughout the album. The swing does not let up on "The Way You Used To Do" – the handclaps may be Ronson's influence or just Homme having fun. QOTSA's signature call and response riffing can be found on "Domesticated Animals". "Fortress" offers an interesting foray into a melancholy song with vocals sounding like a perfect mix of Neil Young and David Bowie. Keyboards are more prominent on "Un-Reborn Again" and "Hideaway" which this critic feels are the weaker tracks.
The highlight of the album is "The Evil Has Landed", fully demonstrating Homme and crew can still write hard-rocking tunes with one of the best jams of their entire catalog. The song appears to end until they come back for the last minute and half and close the song with a section which could have been written during the bands early days of 1996. "Villains of Circumstance" closes out the album. This is a haunting ballad with strings and riffs sure to grow on the listener after repeat listens. If this is what happens when a well-paid producer combines with a band that helped define a sub-genre than who cares, let the beat go on.