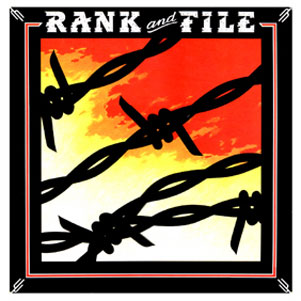 23 January 2010
For some inexplicable reason, I'd never listened to Rank and File before the other week, but hearing this album absolutely blew me away. Forming the band after the breakup of THE DILS, brothers CHIP KINMAN and TONY KINMAN, along with ALEJANDRO ESCOVEDO and several others, essentially created cowpunk and "alt-country" with this 1982 masterpiece. Sure, I'd heard "The Conductor Wore Black" on a Slash compilation Lp called The Slash Sessions, but that clever, almost novelty-like track that closes out side one barely prepares the listener for the incredibleness of the rest of the album. Opening with "Amanda Ruth", a song that showcases both the Kinman's unusual high/lo harmony (imagine JOHN DOE of X harmonizing with MICHAEL QUERCIO of THE THREE O'CLOCK/SALVATION ARMY and you'd be close) and their wicked sense of humor, too. It's the ultimate compliment that this song was covered by THE EVERLY BROTHERS on their 1986 album Born Yesterday. "Glad I'm Not in Love" (and to a degree, the entire album) sounds like what would happen if MARSHALL CRENSHAW had been listening to BUCK OWENS instead of BUDDY HOLLY and once again showcases their sense of humor with anti-romantic lyrics. The third track, "Rank and File", is the only track on here that explicitly recalls the left-wing politics of The Dils. As one of the ultimate post-punk anti-work anthem, it rivals THE MINUTEMEN's "This Ain't No Picnic".
As good as side one is, side two may be even better. The third song on that side, "Lucky Day", is just one of those songs that completely stops you dead in your tracks with its absolute brilliance. It belongs in the same canon as the very best of HANK WILLIAMS or MERLE HAGGARD and it's a wonder that it hasn't been covered by dozens of artists. If they endeavored to write something as affecting as Williams' "I'm So Lonesome I Could Cry", they may have almost succeeded. Simply stunning.
The other songs on side two are great, too. "Sundown" could have come on a WALL OF VOODOO album from the same time period and "I Went Walking" describes the travails of enduring quasi-bohemian finger-pointing and fashion plates.
Simply put, this is a masterpiece. Rank and File would never reach these heights again, though some moments on 1984's Long Gone Dead come close. It's been long out-of-print on vinyl (though I found a copy recently), but it's available as a single CD from the Collector's Choice label. If you can score one, the entirety of it as well as Long Gone Dead and three bonus tracks (two live covers and a cassette-only track) are available on a CD that Rhino Handmade issued in 2002 called The Slash Years. Only 2,500 were made and they go for a lot of cash on Amazon, though.