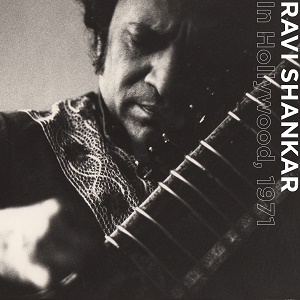 13 April 2016
In June of 1971, sitar legend Ravi Shankar gave one of his many morning concerts in his home on Highland Blvd. in Hollywood. A cyclone had just hit Shankar's native Bangladesh, and the musician expressed his distress in this news. George Harrison happened to be in attendance and, thus, the Concert for Bangladesh was born. That performance is documented here for the very first time.
As with any Ravi Shankar recording, In Hollywood, 1971 encapsulates the master in his most perfect state. Accompanied by long-time life partner Kamala Chakravarty on tanpura and Alla Rakha on tabla, Shankar exists entirely in his element, i.e., relaxed at home with loved ones. He opens with "Parameshwari," an original raga that slowly builds from a lush tapestry of elegance and beauty to an electric performance of speed and excitement. The following "Dhun" finds Shankar lightly floating through the air of his notes with serene joy before ending with the classic raga, "Sindhi Bhairavi," where, after a meditative start, his exuberance explodes with electrifying energy, single-handedly outdoing every single guitar solo that's ever been played over the past sixty years. It's a musician embodying his art, which pours from every essence of his being.
Ravi Shankar physically left us in 2012, but, through his influence, his performance, his composition, he will remain immortal. Hear his life force from forty-five years ago and know it's still as powerful as ever.
comments powered by