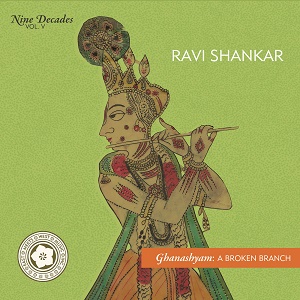 21 July 2017
In 1989, Ravi Shankar delivered a powerful dance-drama, sort of an Indian ballet, to the Birmingham Touring Opera Company on commission. That incredible tale of drug-fueled possession, which was partially based on an ancestor and originally released on CD in the early '90s, has finally been remastered with an additional twenty minutes added to the run time, making it much closer to the original composition than previous editions.
Ghanashyam turns the Western concept of the musical on its head. Mostly instrumental, the story is told through dance and brief, beautiful vocal segments which clearly further the narrative. To paraphrase the forty-third chapter of Tulsi Badrinath's 2013 autobiography Master of Arts: A Life in Dance (Hachette), in which he describes becoming a part of this work, the story revolves around two dancing families from opposite ends of the country who happily coexist until the leader of one turns to substance abuse under the influence of dubious holy men. Ultimately, it kills him, transforming the dancer into an angry spirit. He then possesses a female dancer from the other family that he has always fancied, leading to an exorcism and his spirit being drawn out with the falling of a branch. His widow then accepts his spirit into her body and dies.
Obviously, the visual element is lost on a purely aural document, but the music stands on its own. Western pop elements creep into Shankar's composition to create a Bollywood ballet of sorts. The master, of course, plays his sitar the way Jimi Hendrix approached his guitar – an extension of his body, every pluck felt within his soul. Slower, dreamy, psychedelic passages interrupt lighter, energetic pieces, bringing dimension and depth to this monumental work.
Those who appreciate musicals will certainly appreciate the scope of Ghanashyam, while others interested in the classical and folk music of non-Western cultures will revel in the majestic beauty of the music. Though Ravi Shankar corporeally passed in 2012, his music remains as vital as when he lived. Step outside your comfort zone of social media, reality TV and streaming pop music to experience something beautiful that transcends the noise in our lives. It's a religious experience.
comments powered by