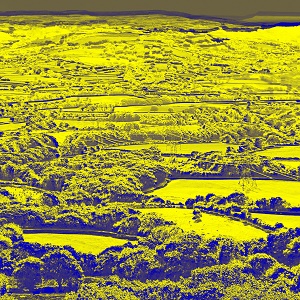 16 March 2017
Berkshire, UK trio Revbjelde deliver an astonishing debut that blurs so many lines between genre boundaries the entire concept becomes irrelevant.
Driven by the multi-instrumentalist core of Richard Bentley, Roy Goss and Alan Gubby, Revbjelde drags steampunk by the throat into a cyberpunk future. Spaghetti western riffs merge with trip-hop lounge and electronic dub while Dixieland jazz blares through an ork-pop backdrop. "The Weeping Tree," perhaps the most straightforward song on the album, blends English folk with oscillator psychedelia and Goblin theatrics, providing a constantly evolving soundscape for the floating, gentle vocals of Emma Churchley. Off-kilter poet Dolly Dolly also makes an appearance or two, providing his typically twisted spoken word. Elsewhere, The Master Musicians of Joujouka seem to be remixed by Lee "Scratch" Perry and monk chanting gives way to a tribal freakout teetering between Hawkwind and Amon Düül II. It all ends with the entire For Albion EP, the four tracks now united as a single suite spanning electronica, experimentalism and Ennio Morricone giallo.
Let's be honest: Revbjelde have produced what five thousand hipsters in Brooklyn have been striving for since Williamsburg became a thing. How? They don't try, they just are, i.e., a group of people who know, love and respect music enough to let it speak for itself. Here's how you do it, kid. Take notes.
comments powered by