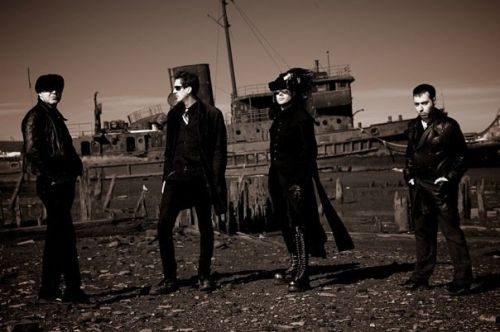 12 March 2010
The Beating of the Wings is a rare breed of record, building a sonic bricolage from moody glam cabaret and early 80's coldwave with an injection of Nine Inch Nails ire. The gentlemen in Revel Hotel don't deal in irony: they wear their dark and damaged hearts on their sleeves, both lyrically and musically. At first listen, it's singer JOHNNY QUINLAN's full throttle bravado and sweeping piano melodies that light the torch songs on the record. Lyrically, he doesn't shy from bombast and incorporates a healthy dose of grandeur, deftly dropping lines about god, prophets, and power, even on the dancefloor ready tracks.
Beneath Quinlan's bravura, however, is the strength of BARRETT HIATT's expansive and hard hitting drums, ROBERT TAHIJA's stirring guitar melodies, and FRANK DESERTO's punchy basslines and precisely apoplectic theremin psych outs. Of the five tracks, "Terminission" is by far the standout song, bringing a fresh take on early 70's glam to life with an electric/acoustic mix akin to Bowie's "Life on Mars" or "Rock 'n' Roll Suicide." Tahija channels Mick Ronson with Quinlan playing both Bowie and Mike Garson as he opines on what could be an indictment of desperate scenesters or the same lost souls Ziggy sang to: "We signed our leases/Bought our coffins/For the end…We talk in riddles/We worship false idols/And single out the weak/We shoot black smoke in the sky/Numb ourselves by getting high/And turn the other cheek."
As for the other tracks, "1,000 Dreams" is already clinched for the clubs with its steamy synth center, while "Dark Naked" is a slippery hybrid, crossing between new wave balladry and slow grind as the end draws near. "Purify" and "Before I Disappear" bookend the record as driving uptempo ballads, both saucy and melancholic at turns. And although Revel Hotel's phenomenal cover of B-Movie's "Nowhere Girl" is only available as a free download, it's such a highlight that I can't resist a mention: their masterful version outshines the original and reveals much about the band's more esoteric musical heritage. Hinting at further future sounds, Revel Hotel leave us awash in a bittersweet dreamscape: The Beating of the Wings comes to a close with Quinlan's vocals in harmony and a theremin writhing in the background as the final strains of piano slowly fade away in a redemptive moment of silence.
Catch Revel Hotel's CD release show tomorrow @ Crash Mansion or get yourself a copy over at CDBaby.
comments powered by