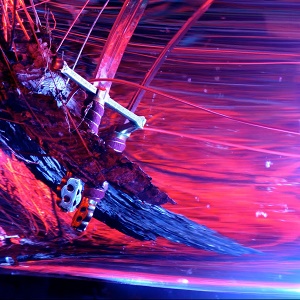 22 December 2015
Brooklyn-based psychedelic improvisers, Rhyton, return with a fourth album of mind-expanding spacerock fit for the Winter Solstice.
Navigating By Starlight sets the controls for the heart of the sun and never looks back. First, "Lovejoy Vapor Trail" jettisons into cosmic heights as Dave Shuford's trippy blues guitar slowly gains momentum, building to light speed for interstellar travel propelled by drummer Rob Smith and bassist Jimy Seitang. At its peak, stars rush past in a stretched blur as nebulae scatter and morph from the force of impact. On the other side, "Scylla and Charybdis" slows down for the treacherous journey through an asteroid belt. Once free from the rocks, the lumbering pace continues while the instruments create the alien textures of undiscovered space, only to gently land on an ancient planet far beyond our realm of perception. It's astral projection through sound, no special abilities required.
As Rhyton continue on their path, they delve deeper into the unknown reaches of the universe. Join them on their journey and see places you never imagined possible.
comments powered by