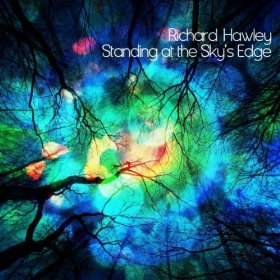 27 August 2012
Richard Hawley put his star in the rock & roll firmament with a series of classy, soulful LPs that, for lack of a better description, put a rootsy spin on the easy listening majesty of early Scott Walker. Albums like the quintessential Coles Corner and the experimental Truelove's Gutter continue to stand the test of time, revealing new things with every spin.
The Sheffield singer/songwriter continues his winning streak with Standing at the Sky's Edge, a startling change in direction as he mostly dispenses with gentility to crank up the volume. Reaching back to his effects-laden guitar work with the 90s Britpop band Longpigs (or perhaps influenced by his sideperson gigs with Pulp and the Arctic Monkeys), Hawley unleashes his six-string as never before on a solo record, slathering the tracks with fuzz-soaked riffs, searing solos and psychedelic atmosphere. His fretboard skill is what makes him so valuable to his outside employers, and it's great to hear him cut loose in his own music.
But no matter how far upstage his ax stands, Hawley hasn't forgotten his other major forte: great tunes. Psychedelic epics like the title cut, "Time Will Bring You Winter" and "She Brings the Sunlight" don't rely solely on guitars and shimmering production to get their points across – they're as much about substantial melodies and lyrics that bespeak earthy intelligence as much as mystical yearning. The frisky "Down in the Woods" and the spectacular "Leave Your Body Behind You" rock in ways he's never allowed himself to on his solo records, while still retaining his signature grace. The airy pop of "Seek It" and the austere folk of "The Wood Colliers Grave" call back to his more genteel work, serving as respites from the acid rock attack of the surrounding songs.
Hawley blends his multiverse together on the single "Don't Stare at the Sun" and the album-closing "Before," moving from the soulful crooning of his more famous work to blistering guitar codas. New statements of purpose? It's too soon to tell, but both songs are indicative of the theme of the album as a whole: change is good, and it's even better when blended with one's own tradition.
http://richardhawley.co.uk
http://www.mute.com
comments powered by