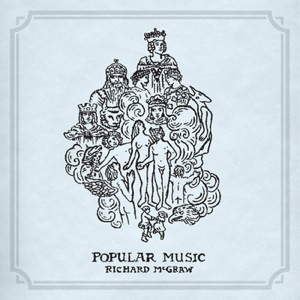 16 January 2012
McGraw has described the process of making this album of covers as "the art of selling out," and he makes admirable work of it. The song selection for Popular Music runs the gamut from guilty pleasure to hidden treasure, with surprising depth and personality. The album is anchored by a pair of tracks celebrating Leonard Cohen. Cohen's plaintive "Ain't No Cure for Love" is rendered by McGraw in a voice that ranges from a hungover half-mumble to ecstatic wonderment, accompanied by harmonium and parlor organ-styled drum machine. The album's lone original song, "Leonard Cohen R.I.P.," is a loving eulogy that surely Cohen would appreciate – something the lionized songwriter may, in fact, have opportunity to do, since he's still very much alive.
The remaining tracks take adventurous turns with varying degrees of success. Lady Gaga's "Bad Romance" is among the most compelling reinterpretations, a foreboding creeper full of longing and failed optimism. The song's coda features a children's choir of McGraw's own "little monsters." The kids also appear on "This Old Heart of Mine." Punctuated by the pulse of symphonic violins and a brassy trombone melody, the song is scarcely recognizable as the Isley Brothers classic.
The bouncy, light electropop production for REO Speedwagon's "Take it on the Run" isn't as satisfying. Lovely strings and shimmering electric piano suggest that the song might have carried more pathos with less clutter and a slower tempo.
With its intimate, brushed snare and quaintly tumbling acoustic guitar, Bob Seger's "Old Time Rock and Roll" is completely subverted. Our singer seems like a reclusive loner who would, indeed, rather take his old records and "sit and listen to them by myself." Good luck trying to take him to a disco. You'll never even get him out on the floor.
Eddie Murphy's club-friendly 1985 hit "Party All the Time" is spun into the collection's grungiest number, becoming a mopey, emo-friendly dirge more in tune with the song's lyric than Rick James' original, funk-based production. The Who's anthemic "Baba O'Riley" is recast as the great lost Paul Simon single, waiting for Art Garfunkel to step in with harmony a la "The Boxer." Hard rocker "Kiss Me Deadly" from Lita Ford becomes a twinkling, starlit ramble.
In the past, McGraw has justifiably earned favorable comparisons to Nick Cave, Tom Waits, and obvious hero Cohen. While many of the songs chosen for Popular Music wouldn't suggest such heavyweight company, McGraw's ample personality is more than convincing. Most any of these artfully sold-out songs would be welcome if sprinkled among a set of McGraw's own worthy material in concert.
comments powered by