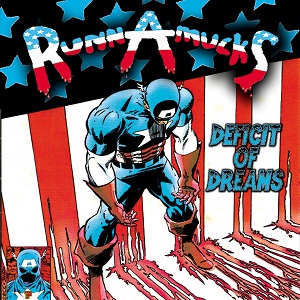 10 January 2013
Now firmly within the grasp of bandleader Josh Dobbs, The RunnAmuckS have produced their finest album to date, an epic reflection on aging, relationships and punk rock frustration that is as honest as it is succinct.
The RunnAmuckS began 16 years ago as a worthy addition to the Orlando, FL hardcore/thrash scene, though traces of those origins are barely evident here. Rather, Deficit of Dreams is an album by a rock'n'roll powerhouse, the Southeast USA's answer to Turbonegro. Flashy leads from Ron K. (not the Eckankore noisician) recall Fred "Sonic" Smith during the MC5's heyday, particularly in the dark commentary of "Independency" and the raging sneer of "Cheap As You." "Don't Cry About Me" is pure Manifest Destiny-era Dictators balladry, while the closing "Times Two" and intro to "Demystify" bare shades of early '70s Rolling Stones.
On "Validation," Dobbs snarls "Success is a song away but I don't know the chords." The fact of the matter is The RunnAmuckS should be so much bigger than they are. Perhaps it's the location: Orlando, FL is synonymous with Disney, not punk rock. Regardless, Josh Dobbs and company have delivered an album that will resonate with every frustrated punk rocker that hates his job but loves coming home to blast records and play with his band. Well done, fellas.
comments powered by