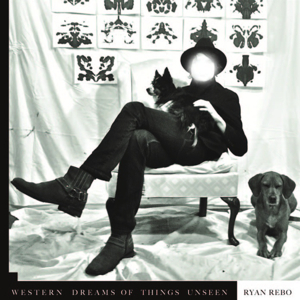 14 October 2012
With its sometimes-fanciful acoustic guitar passages, its wealth of sonic detail on songs that could have been rendered bare, and the sense that we've caught the artist at a turning point, in his moment of greatest aloneness, Western Dreams might accurately be called Ryan Rebo's Workbook. (Like Bob Mould's solo debut, it even contains a song called "Wishing Well.") If the comparison sounds premature, recall that Rebo, now Austin-based, has been at this long enough to earn it. Where Workbook was Mould's much-needed break from his past, Western Dreams is a more obvious fulfillment of Rebo's previous work, but both albums are perfect captures of an era in their makers' lives. And when I refer to their aloneness, I don't mean alone, absolutely. Mould had Anton Fier and Tony Maimone and a lover, just as Rebo has his lovers and his players. But I posited Rebo's 2011 EP Lonely Scientist as a collection of one-man band overdubs, finding its subtle sense of community in a moment of plural handclaps, and his support on Western Dreams, while even more marked (a harmony, an eruption of violin, etc.), never overwhelms, or even equals, him.
Weirdly, he feels most vividly present on instrumental opener "Buzz Hiss Clang," which does exactly those three things, with a beguiling magic and accumulating wakefulness across its two-and-a-half minutes, before it cuts out without warning. To call it the album's best song might sound like a knock, a mean neglect of Rebo's considerable voice, but it's such a gripping moment. It provides a key to the rest of the album, a preliminary catalog of the buzzes and hisses and quaking architecture that might go unnoticed on the other songs, as only here are they the point and the primary feature.
The warm, layered, reverberating production even persists on songs that Rebo's voice or lyrics might easily carry, as on the two classic love (and love lost) songs of the album's second half, "She's A Little Bit Of Everything," and "Two Minds, Two Worlds." These are classic in the way they isolate their writer, make him relatable, accessible, even when a second person is implied. (Single because he must sing.) That's the topic, sort of, on "Two Minds," which is a little bit sentimental, but still a good antidote to the delusional unity that love songs often argue. It's also the best showcase for Rebo's voice, a "deep, steady, tic-less croon" that I compared to Neil Halstead's on the basis of Lonely Scientist. His range has broadened somewhat on Western Dreams; "alternately fragile and steady" would be more accurate now, but fragile, too, in an unfailing, inextinguishable way.
At times, that fragility takes over, and Western Dreams becomes not so much dreamy as baffled. Of Lonely Scientist, I wrote that it "arrives as silvery and hushed as its evocative cover art, peering through the windshield and wondering which came first, the big empty landscape or man's bemused and lonely reaction to it via acoustic guitar." This time, all is confusion. On the cover, we find Rebo surrounded by Rorschach inkblots and indifferent dogs, his face obscured by an orb of light. Or maybe his angle of repose should tell us that he's the perpetrator of these brazen enigmas?1 Either way, he sounds positively lost (that is, lost, with positive results) on "Broken Window," the big, beautiful, aching country song that ends the album. He borrows the melody of "Wild Horses" to talk about the state of the world, as glimpsed (here, there, everywhere) by one skeptical man, and none of his conclusions are very certain: "I don't understand religion. I tried it many times." Then: "You can trust your family and hold on to your friends, but don't find yourself counting on the U.S. government." And the refrain: "No, it doesn't make sense to me." It's the sound of a man finding himself musically even as he learns that what he wants to sing about is confusion and doubt.
1 There's another cover being circulated, just as mysterious, under the influence of Meat Puppets: http://ryanrebo.bandcamp.com/
comments powered by