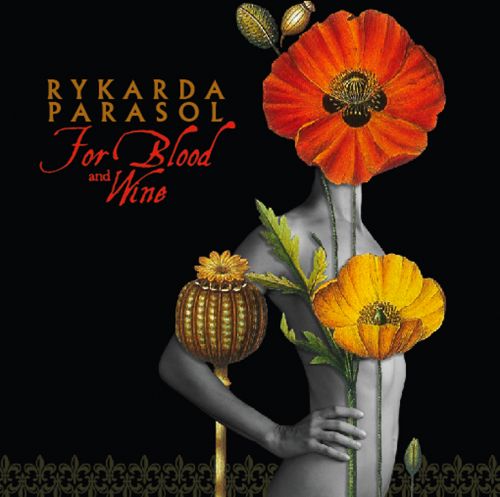 18 December 2009
Rykarda Parasol's dark, rich voice, weathered as if by tragedy and time, leaves you weeping and grinning til the end as she drags you through the dusty back alleys of Gothic Americana. On her second self-released full length album, For Blood and Wine, Parasol paints vivid tableau that are heavy with history. Sorrow and seediness are brought effortlessly to life with her bold language; each track tells such intriguing tales that one can't help but conjure up wild backstories to complement them.
"Widow in White" is the first dramatic high point of many. Parasol's brusque stylizing ornamented with a deep vibrato at times invokes Siouxsie Sioux, although her lyrics are her own dusky poetry:
The ivory lace was woven as a crawler's web
The dress be bone though my sash was rose-ed red
White Henry in my hair and Sapporo lily in my hand
At twenty and one hope is plenty unrest hard to fathom
And as so often that it can become the case
Where Love had presided Freedom now takes her place…
"One for Joy," has a rollicking sing-a-long sway of an old shanty, conjuring a salty nip in the air, while "Hold Back the Night" (like much of the record) has a timeless yet old-timey feel of Nick Cave, Tom Waits, and Patti Smith or contemporary acts such as Rasputina and Patrick Wolf. On "Oh My Blood," Parasol's organ explorations and decadent, drowsy crooning even channel Jim Morrison and The Doors in a psychedelic haze when she moans:
Pen knife, pen knife C'mon all cheer
For the words we sing conjures tears
One word, a mutter, with such restrain
For me my love scribe me your pain
While parts of Parasol's work can be easily compared to other classic acts, it is only useful to mention these artists to convey the formidable aura that emanates from the songstress. And while it's often best to avoid discussions of "female artists" as if they are a genre unto themselves, there is an exhilarating gender-defying aspect to Rykarda's vocal timbre and style that must be mentioned. Her deep alto is cut with grit and bolstered by a world-weary confidence that is not too typical for female performers, and she does not shy from discussions of love, lust, and vulnerability from the female perspective. A girl can't help but rally when Parasol intones, "Ain't no man gonna put a rope around me" so vehemently as the song crescendos in "No Sir." (And God help anyone who might try.)
Challenging gender and genre with her musical and lyrical prowess, Rykarda Parasol is at once raw and earnest, sensual and callous with just enough wit and wry humor to make it all go down sweet and easy. For Blood and Wine is an intoxicating swig of bitters and a trace of lipstick on a stubbled cheek. Even as the sonic strains dwindle, you can hear her lifeblood beating in every last note.
comments powered by