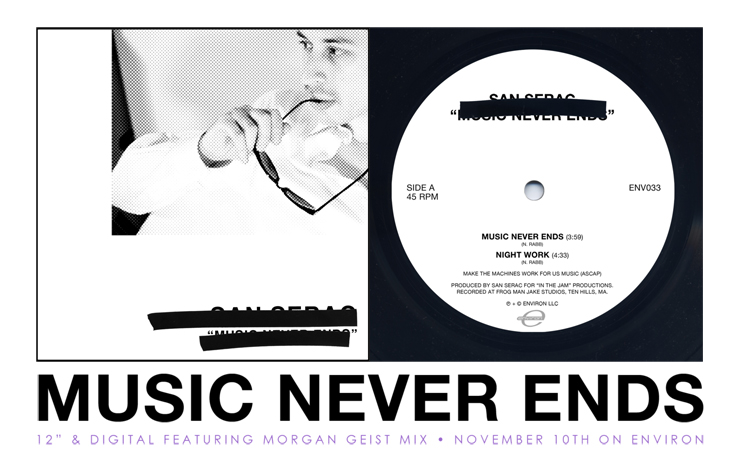 5 November 2009
The term "Intelligent Dance Music" was first used in the early 90's as a catch-all for the groundbreaking Warp Records crew (Aphex Twin, Autechre, The Orb, etc), but as most critics, musicians, and fans never agreed on its definition, the moniker drifted into comical obsolescence. What makes electronic music 'intelligent' anyways? The idea of IDM is vague bordering on absurd, but when I first heard San Serac, somehow no label was more apt than Intelligent Dance Music.
My introduction to San Serac was live in the basement of Lit, with sweaty girls and boys surrounding sole member NAT RABB as he bared his synthesized soul to the room. The mix of irony and earnestness was quite compelling as Rabb killed that show old school house party style. A presence on the scene for years, he's worked and toured with successful electronic outfits from Junior Boys to Shout Out Out Out Out. Smartly infusing dance music rave ups with the wit which is so often left behind, San Serac is infectious both on the dancefloor and in your headphones.
San Serac's latest EP, Music Never Ends, delivers lyrics sharp and clever imbued with equal parts humor and existentialism. On the opening track, "Style," Rabb spins the following scene over the conflation of freestyle flavor, acid house, and Morris Day funk.
At the end
Standing on evocative piers
The wind in your sleeve and a hollow ring
To the saxophones you hear
All the mistakes, tripe, claptrap
We presume you're considering in montage
The soundtrack of lives wavers like a mirage…
Adorned with retro sonic flourishes, the slinky jam, "Night Work," follows, before the title track takes over. "Music Never Ends" evokes the best Euro Dance of the mid-90's with claps and cowbells punctuating the heavy house groove. It's all augmented by an angular, dissonant guitar breakdown, which in the end decays into stuttering beats. The remix by MORGAN GEIST follows, which is twice as long but just as fun. "Phantom voices, tracking patterns/Zero sum game/It matters/All the time" sings Rabb. And the IDM never ends…
Look for the vinyl release now on Environ, and the digital release everywhere on November 10th!
comments powered by