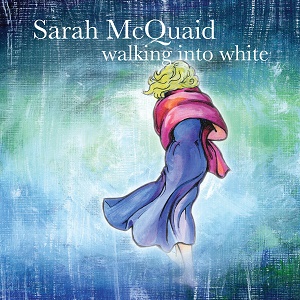 18 August 2015
UK-based folk singer/guitarist, Sarah McQuaid, presents her fourth solo album, which shows the songwriter flourishing within her realm.
Walking Into White floats in the breeze that blows along a sharp cliff edge. McQuaid's fluid guitar recalls the mastery of Roy Harper, while her gently powerful voice soothes with the authority of wisdom. The opening "Low Winter Sun" slightly recalls The Who circa Quadrophenia with its airy sparseness, though the following "Where the Wind Decides to Blow" blatantly nods to rock'n'roll with a bit of heavy drumming. "Yellowstone" evokes Spanish classicism, while the three-part a cappella "Sweetness And Pain" rolls a mysterious fog upon the moor. It ends in pure, majestic beauty with the religious hymn, "Canticle of the Sun," written by St. Francis of Assisi in 1225, translated and set to music by William Henry Draper in 1919, and, finally, Ewan MacColl's love song for Peggy Seeger, "The First Time Ever I Saw Your Face."
Sarah McQuaid has spent far too long resting in the wings of relative obscurity. Fall into Walking Into White and land in her soft grip, where even darkness becomes a source of comfort.