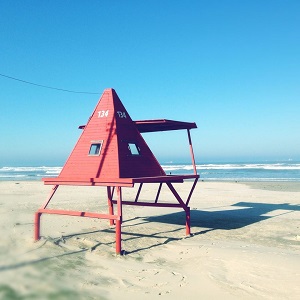 21 July 2015
Philadelphia, PA's Satellite Hearts continue their exploration of eclectic rock'n'roll with a powerful sophomore effort that nods heavily to the '70s.
Desire Forces the Flow recalls the dramatic pop aesthetics of Baby Teeth and Tommy Wallach, with lead vocalist, Justin Pellecchia, blustering like T. Rex's Marc Bolan fronting Muse during a twisted glam freakout. Shades of Lou Reed and David Bowie float freely through a heavy John Lennon and Roxy Music-tinged soundscape. Pellecchia's guitar solos particularly sound like Roxy's Phil Manzanera, while subtle keyboard touches remind of Brian Eno's early contributions to the group. Bassist Lucas Rinz and drummer Keaton Thandi, on the other hand, explode with the lock-step groove of Iggy & the Stooges' Ron and Scott Asheton and Grand Funk Railroad's Mel Schacher and Don Brewer at their loudest. It's a fully engaging, frenzied ride through some of rock's best influences without the nauseating filler.
Looking for the true modern classic rock? Satellite Hearts have it for real. Sail into their world of heady unpredictability for a truly excellent experience.
comments powered by