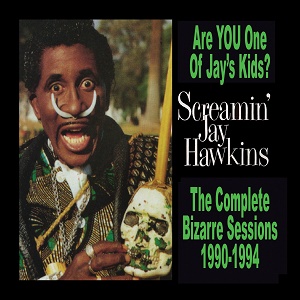 22 May 2018
By the 1990s, Screamin' Jay Hawkins had been relegated to the annals of obscurity. Though his 1956 single "I Put a Spell on You" had left an indelible mark on rock'n'roll while establishing him as the godfather of shock rock, he now found himself bouncing around the Los Angeles club circuit as a novelty musician. "Nobody wants me," he told his future producer and manager Robert Duffey. Their chance meeting, however, landed the singer a record deal with the recently relaunched former Frank Zappa imprint Bizarre Records. Over the next five years, Hawkins recorded three albums for the label, all of which are now collected together in a single two-disc package with additional unreleased tracks.
Are YOU One of Jay's Kids does nothing to dispel the novelty aspect of Hawkins' performance while also offering some gritty, moving performances. Spanning the trilogy of 1991's Black Music for White People, 1993's Stone Crazy and 1994's Somethin' Funny Goin' On, we hear him as he was at the time, i.e., a twisted blues singer bearing dashes of Wesley Willis and "Wild Man" Fischer. Black Music placed a dance/rap version of "I Put a Spell on You" amid rabid originals like "Ignant and Shit" and bombastic covers, such as showtune "Ol' Man River" and Tom Waits' "Heart Attack and Vine." Stone Crazy followed in the same vein, but turned the blues up a bit, while the final Somethin' Funny delivered a manic does of heavy blues. Drug abuse, cannibalism, actress Sherilyn Fenn and Long Island Lolita Amy Fisher all appear as lyrical subjects, as well you'd expect.
Now, for the collector purist, this compilation lacks some important information. Despite Chris Morris' excellent liner notes, there is no information about when and where the sessions took place, who performed on them and which tracks appeared on which albums, though they seem to be in chronological order. It doesn't detract from the music, but it can be frustrating for those who expect to see these items printed in a reissue.
Screamin' Jay Hawkins eventually moved to France, where he died at the age of 70 in early 2000. For better or worse, these were some of his final recordings. While not everything is stellar, you can tell he was having the time of his life doing these recordings, and that enthusiasm is infectious.
comments powered by