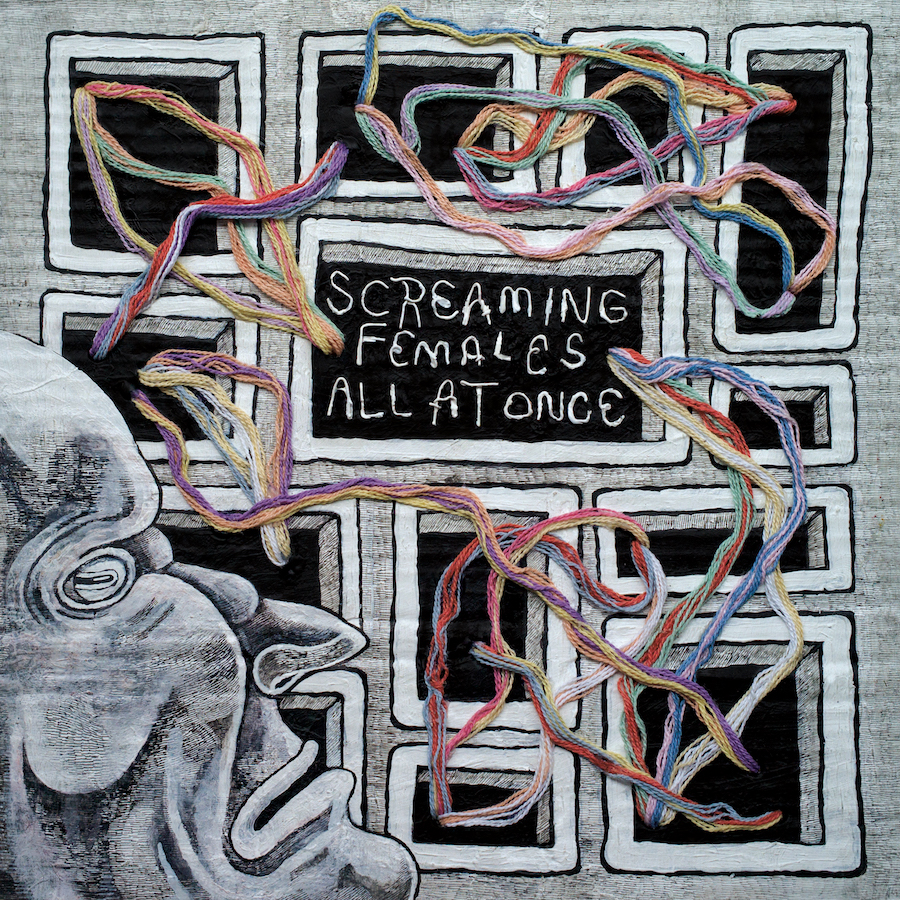 4 March 2018
All at Once, the seventh full-length from New Brunswick's textbook-defined power trio Screaming Females, builds on the pop flirtations of their previous record while matching the length and bevy of ideas found on Ugly, marrying the two in a mettlesome, swaggering although humbled ultra-album led as always by Marissa Paternoster's muscular guitar riffs and interchangeably sweet and rotten vocal style.
Following the concise nature of Rose Mountain and how neatly it all comes together, the notion of a 50-minute and 15-song double LP can seem overwhelming on the surface, but the band's creative streak clearly struck gold during these sessions. The strongest moment occurs later rather than sooner, from the stretch of "Chamber for Sleep" (parts one and two) through "Bird in Space." The former defies typical expectations for a segmented piece; though it hits upon many motions before its end, there's nothing outright "prog" about it, and the demarcation is more of an organizational move than one of necessity. In its second movement, the three are as tight as ever with Jarrett Dougherty working overtime to provide blink-and-you'll-miss-it tom fills throughout the iambic structure. The latter recalls their occasional live cover of Sheryl Crow's "If It Makes You Happy," building on its relaxed, pub rock verse and borrowing that staid energy for a triumphant refrain that makes one think that they'll require a miracle to outdo themselves in future ballads as this one feels like a swan song before its time.
"Glass House" enters with both bang and whimper, at first growing volatile only when no words are sung before exploding in a finale imbuing imagery of a gritty action movie trailer, as Paternoster walks in slow motion from the wreckage of the confines in question as she maligns, "My life in this glass house/Impossible to get out." She tackles another type of oppression in "Fantasy Lens," wherein she accuses, "You'll stare at me in a fantasy/Love me through the lens." It's an all too accurate reading of the false fandom surrounding female-fronted acts that holds a torch for Chvrches' Lauren Mayberry's "I will not accept online misogyny" article for The Guardian, Alvvays' Molly Rankin's unwanted onstage kiss attempt from a concertgoer in Antwerp, and countless others.
"Agnes Martin" ranks among their heaviest and most badass selections. King Mike's bass maneuvers continue to do just the right amount of melodic talking, packing abrasive punches on the cleverly hooky "Soft Domination" and "My Body." Even bite-sized gestures like the lo-fi, sinister "End of My Bloodline" get under your skin. Closer "Step Outside" endures a series of shifts, much like the preceding "Chamber for Sleep," including a seemingly arbitrary yet deftly charming four-bar set of 7/4 phrases, almost as if to prove that fifteen tracks in, the well has not run dry. Indeed, the spigot still spouts forth when pumped, and the album ends briskly and as joltingly as it started, warranting an immediate replay.
You may purchase the record here.