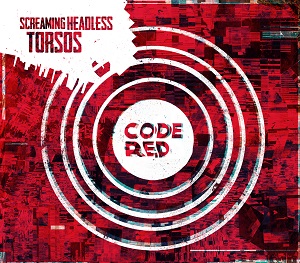 3 December 2014
After nine years of relative silence, Screaming Headless Torsos, the prog-funk vehicle for virtuoso guitarist, David Fiuczinski, deliver their first studio album with new vocalist, Freedom Bremner.
Code Red swirls heavy metal, jungle, r&b, funk and jazz into a color all its own. Through shifting tempos, volumes and moods, the songs meld and morph, never quite sticking to any single style. Throughout, Bremner shows his range, from smooth soulfulness in "Running Black Water" to Faith No More Mike Patton angst in "Almond Pear in Love" and the opening title track. Guest musicians include Maroon 5's Jimmy Valentine, who surprisingly unleashes a shredding guitar solo in "Brooce Swayne," and, most notably, Parliament-Funkadelic's Bernie Worrell, whose Mothership keyboards send "Wizard of Woo" into outer space. With massive production by Gregg Fine and Ron Saint Germain, it's a party romper that takes a left turn at early Was (Not Was) and never looks back.
Far from any hardline pop sensibilities, Code Red breaks down musical barriers and invites us all to join in the fun of Screaming Headless Torsos.
comments powered by