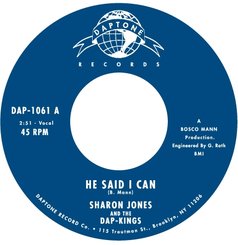 21 November 2011
This 45rpm single demonstrates afresh that the leftovers from soul providers Sharon Jones and the Dap-Kings top many artists' prime cuts.
"He Said I Can" is a funky strut written by bassist/producer Bosco Mann which springs to life in the vinyl format. The song was previously available as a bonus track from iTunes with the digital purchase of 2010's I Learned the Hard Way. Self-assured and celebratory, Jones belts with gospel-styled fervor about a love strong enough to banish the deepest despair. The Dap-Kings' horn section stands out with call-and-response shots and sly solo licks from saxophonist Neal Sugarman.
The B-side is "It Hurts to be Alone," a single written and first recorded in 1963 by Junior Braithwaite (aged fourteen at the time) with The Wailers – alongside bandmates Bob Marley and Peter Tosh. Recast as a soulful, slow burning tearjerker, the Dap-Kings' version was originally released in 2009 on the Causes 2 benefit CD. The nimble guitar of the Wailers' original is reinterpreted in the doo-wop style of early Motown singles, full of character and locked into Homer Steinweiss' reliable drumbeat. The versatile Jones turns in an intimate, heartsick vocal.
comments powered by