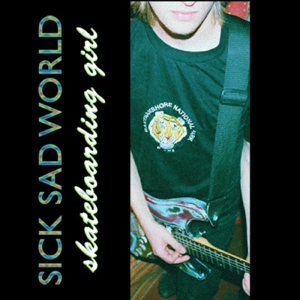 24 January 2013
A potent blast of D.I.Y. pop from a dank Northwest basement, "Skateboarding Girl" — the debut single from Seattle-via-Olympia singer-guitarist Jake Jones, alias Sick Sad World — fights seasonal depression with youthful energy and timeless melodicism.
Jones cut his teeth as one-half of teenage prog-punks Moon Runners, and played drums for K Records goth-surf instigators Christmas. This two-song cassette, issued by Seattle label Electricity/Lust, is more straightforward.
With its carefree sentiment and memorable refrain — "I just can't wait to be part of your dreams" — the habit-forming title track is a statement of intent, a three-minute study in multi-tracked harmonies and power-chord crunch propelled by electronic 4/4 drumbeats and simulated handclaps. Play it loud.
The B-side, meanwhile, faithfully re-imagines Weezer's "Don't Let Go" — from 2001's "Green Album," evidently less maligned by Jones' generation than my own — as bedroom slacker-pop, with understated vocals, bubbly synths, and loose ascending leads.
Short and sweet, "Skateboarding Girl" is a solid first release, and given Jones' young age (23) and the depth of his previous projects — both worth hearing — it's a safe assumption Sick Sad World has yet to fully arrive.