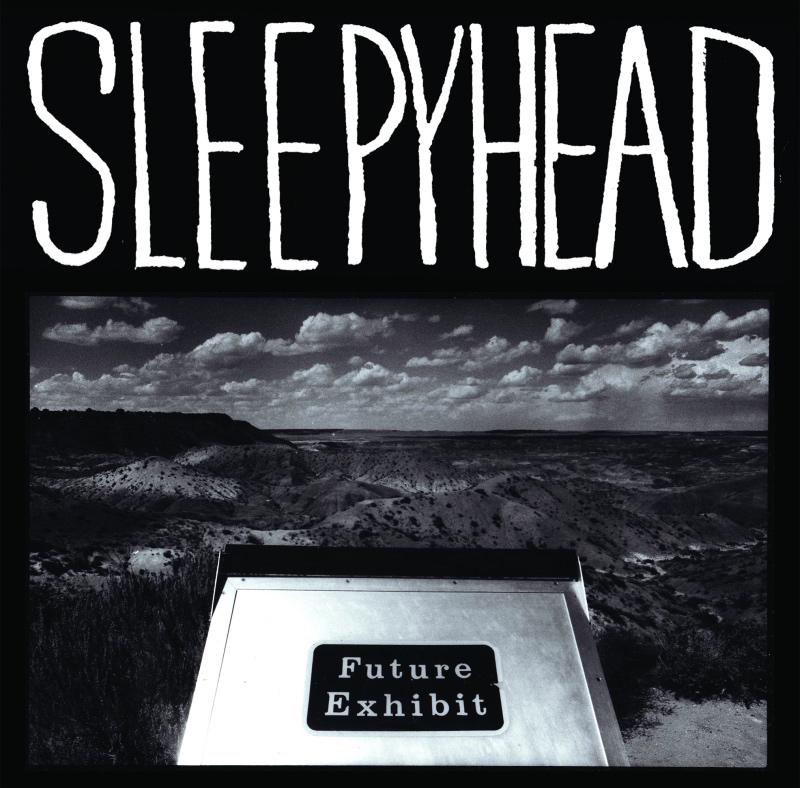 13 April 2018
Sleepyhead's Future Exhibit Goes Here is a 2xLP set featuring remastered versions of the two records from the band's years on the long defunct Homestead Records; 1994's Starduster and 1996's Communist Love Songs. The albums were recorded with the original lineup forever immortalized in the cult classic Half-Cocked: drummer/vocalist Rachael McNally, bassist (and writer of said film) Mike Galinsky, and guitarist/vocalist Chris O'Rourke.
"Don't tell me I'm a child, 'cause I'm 22 years old" and "I think that disco sucks and punk is cool" are just a few lines that immediately show this two-LP run's age in the best way. If you partook in the late '80s-early '90s college rock institution and somehow managed to overlook this diligent trio, the memorial aspect is a large benefactor in one's enjoyment of these albums. The declarations and rampant rhetorical interrogation present on Starduster alone represents an angst of universal, self-referential measures. When O'Rourke, in his collegiate sneer, questions his parents about why he was even birthed on "Solid Gold," he's speaking for the misunderstood masses that would prefer their "noise pollution" to come from left of the dial; keyword: misunderstood.
This snapshot of a young band in the heyday of alternative is priceless and endearing rather than a source of chagrin. Any lyrics that might induce wincing on paper now are delivered with utmost, timeless honesty on tape. Discovering them here may even provide further clarity in stature to its first pressing. Wishing for a shred of understanding, O'Rourke poses the query, "What exactly is so threatening about me?" They were NYU students, for goodness' sake. As if their innocence wasn't intact enough, any flack they or their likeminded listeners received from parents could've been put to bed by the simple fact that picking up noisemakers is an infinitely healthier way to blow off steam than others. Starduster is, in that sense, an underground retelling of Twisted Sister's "We're Not Gonna Take It" music video.
McNally's vocals were only teased on the former of two records wherein she sings its titular track, pulling double duty with a bouncy, ride cymbal-rific backing on her kit. Communist Love Songs features her at the microphone more prominently, whether singing lead ("Rolling Rita"), providing backup ("Go West!"), or trading verses and harmonizing on the album's namesake song. The confidence and realization of her performative strengths in between recordings finds creative solace here, finally receiving her due as an equally recognized frontperson to Sleepyhead.
They proceed to take the plunge to more conceptual and dynamic depths, starting with "Ice Cream Cone," which begins harmlessly enough as flirty singalong fun, eventually growing into a jam comprised of two chords, threatening to burn down the house with its decibels. "I Love You the Rain" makes strides towards straightforward pop, filling its last minute with half-step key changes to the chorus. "Rolling Rita" fuses sophisticated jangle rock with an amplifier stapled to the scuzziest of settings, like an amicable meeting of the minds between Aztec Camera and Dinosaur Jr. O'Rourke introduces a classic-sounding Hammond organ to the mix with transparent flare; clearly excited about the new instrument, but careful to exercise restraint so as to not let it overstay its welcome. With its arcade style keys at the forefront, "Yer Excellence" sets a knowing precedent for the retro hunger boom that would permeate the indie atmosphere a decade or so later; meanwhile, the warbled, bowling alley-reminiscent tones of "The Communist Love Song" carry an altogether jauntier attitude, and it's all the sweeter when that guitar does come blazing in after its second refrain. Revisiting these records is as much of a trip down memory lane as it is an acid test for just how widely the gumption was spread to the more unknown sects of alternative circles at the time.
You may purchase the record here.
comments powered by