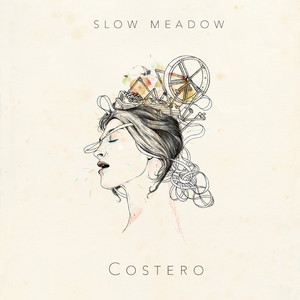 17 December 2017
Costero (Spanish for Coastal) is the hushed but gorgeous new release from Houston artist, Matt Kidd. He is the only artist that records for the Hammock Music label other than the band itself. There is a logical and symbolic similarity to the music that emanates from these musicians, and it's always striking, profound, and intensely emotional. It is difficult to write emotive instrumental music, for so much of this genre is bland. But here, we have ethereal, supremely beautiful tone poems that paint multi-hued pictures in the listener's mind.
I have little information on this release, but it appears to be influenced by travels to Mexico. Most of the songs and the album title are in Spanish. There are interesting and cool illustrations in the liner notes that may point to a song's meaning, but I wouldn't count on it. I think this is music that touches the mind and soul at many levels and everything is open to interpretation. What one person envisions can be wildly different from another person. To me, that is the point of this ambient and electronic music with classical overtones.
"Ships Along the Harbor" opens up and flows out slowly, like a small boat gently pushing through calm waters. The mournful piano is the perfect accompaniment to the equally solemn strings. Yet, the music raises you up as it continues, and it's like being greeted by bright sunshine after a long, misty pall. "Boy in a Water Globe" is so thoughtful and exquisitely rendered that I want to take its wonder with me to a warm, sunny beach, white sand undulating ahead for miles, marked only by the trails of crab and turtles. It is the soundtrack to life, if only for a few moments before it recedes like the tide. "Borderland Sorrows" is another wonder, a contemplative and uplifting piece that lifts away the stress and clears the cobwebs in my brain. "Cielo Rojo" (Red Sky) settles in like a warm blanket surrounding you as you watch the sunset on a crisp, fall day, rippling its colorful arms all across the water, before fading to black. "Brazos Fantasmas" (Ghost Arms?) is plaintive as its watery notes trickle past your ears and invade your mind, and I wonder about the longing I sense behind the music. Longing for someone lost forever? Maybe.
"Viejo Carrusel" (Old Carousel) reminds me of a sepia-toned photograph of an ancient merry-go-round, populated with the faces of long dead relatives with bright smiles. I love how it sounds like the distant strains of a carousel organ pumping away. "Lamellophone and the Gulf of Mexico" opens with swells of hazy distortion, then crystallizes to a diamond bright wash of tranquil beauty. How I love the piano here and the swooning sweep of cello and violin! Majestic and easily one of the finest tracks in this collection. "Quintana" may refer to a girl's name, or a place in Mexico. But no matter, just listen to the music and cultivate your own meaning. It is Matt Kidd at his soundscaping best, and it forms into a sweet, romantic pattern as it skates along. Lovely work! "Hurricane" is the calm before the storm, gentle waves lapping at my feet as I am transported once again to the shore, squinting as the sun drops below banks of clouds, the precursor to a tempest. The music picks up along with the wind, pushing the listener along into the center of the maelstrom. "Palo Volador" (Flying Pole) is named for an ancient Mesoamerican ceremony/ritual still performed today, albeit in modified form, in isolated pockets in Mexico. It is a fitting way to bring the listener to a logical end of this song suite (not counting the live bonus track). It hovers in the distance like a mirage, only it sates the senses instead of offering false hope. "The Tragedy of the Commons – Live Version" is virtually indistinguishable from the other recordings, so pristine is the sound. Truly, Matt Kidd is a phenomenal and exceptionally talented composer and producer, and his second proper album is a beautiful piece of work. Highly recommended!
Pick up the album over at Bandcamp and catch up with Matt on his Facebook page.