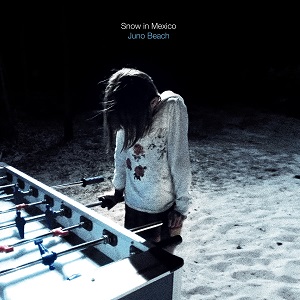 24 July 2015
Italian duo, Snow In Mexico, return with their third four-song EP, which takes their hazy electronic sound further into the neon underground.
Propelled by an insistent italo beat, the "Juno Beach" EP perfectly treads in a space between the analog dance music of the early '80s and modern dream pop aesthetics. Layers of synthesizers create pulsing leads encompassed by a Vangelis-style atmosphere rising from the dust of rusting machines, burning motherboards and broken glowing signs. Vocals exist as ethereal compliments to the melody, whispers of digital ghosts remembering social media updates, though "The Call" centers on a heartless breakup voicemail, a relationship forgotten in the span of ones and zeros. It's dark and airy Blade Runner cyberpunk transmitted by lonely satellites floating beyond the smog.
So, should Snow In Mexico bite the Ethernet cable and assemble a full-length? Ordinarily, the answer would be an absolute "yes," but the EP format seems to be working for them. Let's just hope it doesn't take another three years to come out.
comments powered by