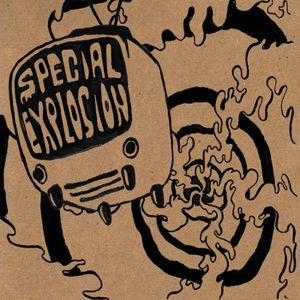 18 June 2013
Hailing from Seattle's eastern suburbs, Special Explosion has, since 2010, wowed local showgoers of all ages with ahead-of-the-curve musicianship, pop hooks and presence.
Although Sébastien Deramat (guitar), Jacob Whinihan (drums) and siblings Lizzy (bass) and Andy Costello (guitar; both sing) aren't far removed from high school, 2011's scrappy A Smaller Me EP and majestic 2012 single "Lifeguard" showed off songwriting chops closer in spirit to the band's Northwest ascendants The Thermals and Built to Spill than to its peers on the D.I.Y. circuit.
On vinyl debut Past/Future, the foursome broadens its horizons, stepping up production values, slowing down tempos, fleshing out dual-guitar dynamics and embracing some surprising vintage indie-rock influences.
At once tender and crushingly heavy, "Past Nasty's" subtle rhythmic shifts and perfectly-placed feedback nod knowingly at U.S. shoegazers The Swirlies and Lilys. On the flipside, "Viewtiful Future," emotive chorus effects and gauzy co-ed harmonies suggest Deramat, Whinihan and the Costellos — who used to end sets with a cover of Pavement's "Gold Soundz" — have been getting into the space-cadet slowcore of Seam and Codeine.
Whereas Special Explosion's diamond-in-the-rough demos masked ambition and maturity with teenage restlessness, Past/Future makes clear that even as the group's musical curiosity intensifies, they're taking the time to absorb new discoveries into already strong foundations.
Special, and, yes, explosive, it's an exciting document of a talented up-and-coming band zeroing in on exactly what it wants to be.