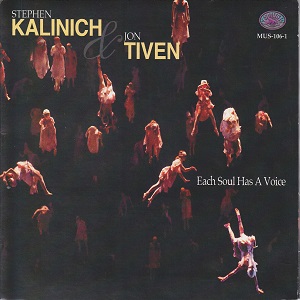 20 May 2015
Lyricist Stephen Kalinich (Beach Boys) and songwriter/producer Jon Tiven (Alex Chilton, The Jim Carroll Band, Frank Black) team up for their third album of psychedelic soul, continuing the partnership they began with 2012's double album, Shortcuts to Infinity/Symptomology (MsMusic).
Each Soul Has a Voice brims with the confident swagger of artists who know what they want and love what they're doing. Marked by The New York Dolls' cabaret drama, late '70s Rolling Stones strut and a Brian Wilson approach to mixing by Mark Linett, the songs are gritty, honest portrayals of the world around us. Kalinich's lyrics range from paraphrasing Shakespeare to vulgar revelry, while Tiven's music displays a pop sensibility within the blues. Brian May of Queen and Steve Cropper from numerous Stax recordings lend their guitar prowess to a couple of the tracks as well. It's a celebration of life and a smirk at the youth, who, hopefully, will have it figured out at some point.
With such incredible legacies behind them, it was inevitable that Stephen Kalinich and Jon Tiven would come together to pave a new road for the future. Let their cosmic r&b in and smile.
comments powered by